Posted: October 27, 2023
Last Modified: December 8, 2023
Progress Accelerates on Sand Lake Road Project
Activity is increasing on the project improving the Interstate 4 (I-4) and Sand Lake Road (State Road 482) interchange. Motorists should be advised that a traffic shift on westbound I-4 just west of Sand Lake Road began Monday, October 10.
All westbound I-4 mainline traffic was shifted onto new temporary pavement in the median of I-4. The traffic shift provides space to allow crews to begin road and bridge construction over Sand Lake Road. The shift will remain in place as the project progresses. For more information on the traffic shift, download this handout (PDF).
In addition, pedestrians in the Sand Lake Road area near International Drive should be aware of a sidewalk detour alongside the eastbound lane on the south side of the roadway. The Florida Department of Transportation (FDOT) is detouring pedestrian traffic on the eastbound Sand Lake Road sidewalk between Turkey Lake Road and International Drive. The detour will be in place until early 2024. All pedestrian traffic will be directed to follow the detour signs and use the sidewalk on westbound Sand Lake Road (on the road's north side). The detour is necessary to complete utility, drainage, and ramp work. Access to all nearby businesses will remain open.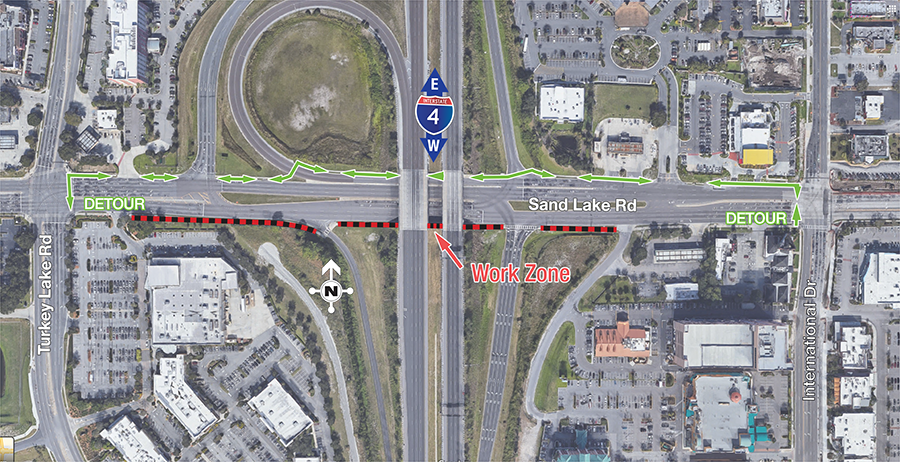 FDOT advises motorists and pedestrians to follow all posted signs. Construction schedules are subject to change due to weather or other unforeseen circumstances. Please continue to use caution while driving or walking through active construction zones.
For more information on the planned improvements on the Sand Lake Road and I-4 interchange project, visit the project website at I4Beyond.com/SandLake.