Special Features
Upon completion, the I-4 Beyond the Ultimate project will improve motorists' commutes in a variety of ways. The enhancements don't end at rebuilding nearly 40 miles of roadway, but rather continue with other signature features such as Florida-friendly landscaping, architectural accents and innovative interchanges. This portion of the website highlights how this distinct and memorable design will reinforce mobility and safety, engage communities and maximize accessibility.
Aesthetics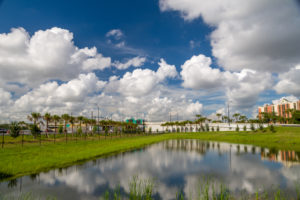 While easing congestion and reinforcing safety is one of the primary goals of the I-4 Beyond the Ultimate project, there also are plenty of other exciting aesthetic elements:
Four new tolled managed lanes (two in each direction).
Accent lighting throughout corridor.
Florida-friendly and native landscaping.
Monumental and functional direct-connect ramp pylons.
Enhanced bridge architecture and cladding.