Reducing Wrong-Way Driving Incidents on I-4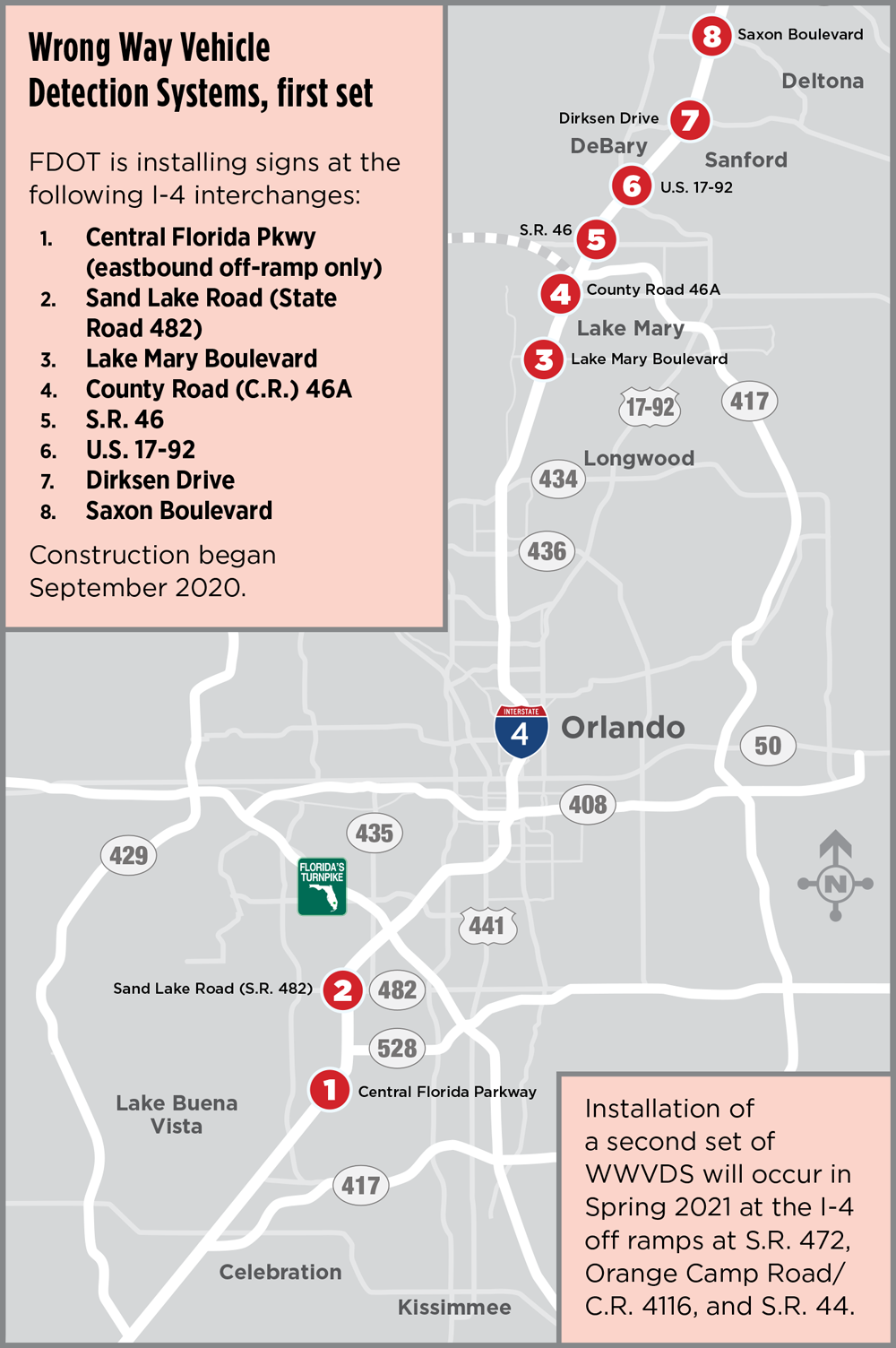 Wrong-way driving crashes occur when a driver has not observed posted traffic signs and proceeds in a lane going the wrong direction, increasing the risk of a head-on collision. To reduce wrong-way driving incidents, the Florida Department of Transportation (FDOT) is implementing Wrong Way Vehicle Detection Systems (WWVDS) that will alert drivers of entering the interstate in the wrong direction.
In September 2020, FDOT began constructing new wrong-way signage, roadway reflectors and pavement markings on select Interstate 4 (I-4) ramps in Central Florida. Each sign is equipped with various technologies to detect vehicles traveling the wrong way. Once triggered, lights on the signs begin to flash to notify the driver they are traveling in the wrong direction. If the motorist continues in the wrong way, radar detection sends alerts to FDOT's District Five Regional Transportation Management Center (RTMC) and law enforcement. The RTMC systems also broadcast a wrong-way driver alert on electronic messaging boards along the interstate system to warn other motorists.
The first installation of WWVDS and other driving deterrents began this month at the I-4 interchanges. When completed, motorists can expect to see detection signs at eastbound and westbound exit ramps along I-4 in Orange, Seminole and Volusia counties.
This first batch of detection systems will be at the following I-4 interchanges:
Central Florida Parkway (EB exit only)
Sand Lake Road (S.R. 482)
Lake Mary Boulevard
County Road 46A
S.R. 46
Orange Boulevard/U.S. 17-92
Dirksen Drive
Saxon Boulevard
Installation of a second set of WWVDS will occur in Spring 2021 at the I-4 off ramps at S.R. 472, Orange Camp Road/C.R. 4116, and S.R. 44.
To find out about construction in your area, sign up for advance construction alerts at I4Beyond.com/Alerts. For more information on the WWVDS, visit I4Beyond.com/wrongway.