Posted: October 27, 2023
Last Modified: December 8, 2023
Increasing Capacity in Osceola County
The Florida Department of Transportation (FDOT) continues work on construction projects to add capacity to Interstate 4 (I-4) in Osceola County.
Several construction projects near the I-4 and County Road (C.R.) 532 interchange near ChampionsGate improving the roadway are now complete or are nearing completion, so motorists can enjoy a better quality of life and spend less time in traffic.
The first project, which began in July 2021 and reached final completion in early 2023, transformed the I-4 at C.R. 532 interchange into a diverging diamond interchange (DDI), with the new traffic pattern having opened to motorists July 2022. The DDI eliminated left turn phases at traffic signals and reduced the number of signal phases from four to two, leading to more efficient traffic movement throughout the DDI. Conflict points were also decreased by more than half. A conflict point is any location in the interchange where vehicles' paths merge, diverge, or cross. These are the most likely locations for collisions to occur. This project also improved ramps and added bike lanes and sidewalks along C.R. 532. The completed DDI can be seen in the photo above.
Over the past several years, Central Florida has attracted residents and visitors in unprecedented numbers, which has led to increased demand on state roadways. These improvements were designed to ease congestion, increase capacity, and improve traffic flow in the ChampionsGate area. According to recent data, the average morning travel time in 2023 on eastbound C.R. 532 is down by almost 30% compared to 2021, with average speeds having improved by a similar percentage. The average morning travel time in 2023 on westbound C.R. 532 is down by over 12%, with average speeds having improved by over 16% compared to 2021, prior to the DDI's implementation.
Additional projects, which began in November 2021, have also added capacity in the area recently by adding new eastbound and westbound I-4 auxiliary lanes, one in each direction, between the ramps of State Road (S.R.) 429 and C.R. 532, as well as a new auxiliary lane on northbound S.R. 429 between I-4 and Sinclair Road. The auxiliary lane on eastbound I-4 opened spring 2023, while both the auxiliary lane on westbound I-4 and the auxiliary lane on S.R. 429 opened summer 2023.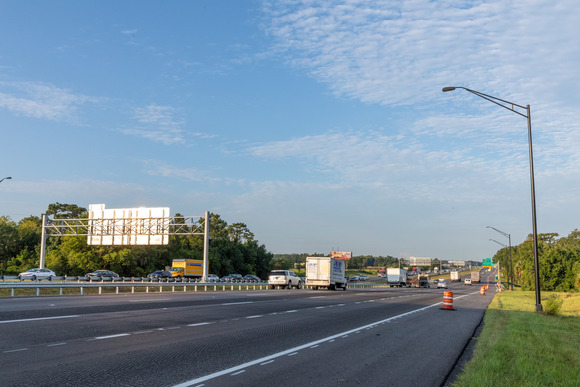 An auxiliary lane, like the westbound I-4 auxiliary lane shown in the photo above, is an extra lane connecting the entrance and exit ramps of two consecutive interchanges. The additional lane allows drivers wanting to merge onto the interstate a longer distance to do so and helps reduce bottlenecks caused by drivers attempting to enter or exit the interstate.
While the auxiliary lanes are now open, additional work continues until this project's anticipated completion in early 2024, much of which will continue to increase safety in the ChampionsGate area.
One of the final steps in completing the milling and resurfacing of both directions of I-4 from west of S.R. 417 to the Osceola-Polk County line, and both directions of S.R. 429 between I-4 and Sinclair Road, is adding an open-graded friction course. This is a thin layer of asphalt that improves the frictional resistance of the surface of the road and improves drainage, making motorists less susceptible to hydroplaning, resulting in safer roadways.
In addition to the friction course, additional work left to be completed includes adding rumble stripping, an effective countermeasure for reducing roadway departure crashes. Final striping will be added with thermoplastic striping, which is highly reflective and long-lasting. Intelligent Transportation Systems (ITS) will be installed, including motor-vehicle detection systems. Additional work includes irrigation, shoulder slope treatment, and sign installation. Final steps will include final surveys and as-builts, a measure taken to reflect all changes made during the construction process.
For more information on the progress of these projects of I-4 Beyond the Ultimate, visit I4beyond.com/ChampionsGate or follow us on Twitter at @i4Ultimate.