Construction Progress Continues on Interstate 4 in Osceola County
The Florida Department of Transportation (FDOT) continues to add capacity to Interstate 4 (I-4) in Osceola County.
The latest step by the Department to improve mobility along the vital Central Florida corridor is the new auxiliary lane on westbound I-4 between State Road (S.R.) 429 and County Road (C.R.) 532, which opened late last month.
Another new auxiliary lane on S.R. 429 between I-4 and Sinclair Road also opened recently as part of the project, and an auxiliary lane on eastbound I-4 between the ramps of C.R. 532 and S.R. 429 opened in May.
An auxiliary lane is an extra lane connecting the entrance and exit ramps of two consecutive interchanges. The additional lane allows drivers wanting to merge onto the interstate a longer distance to do so and helps reduce bottlenecks caused by drivers attempting to enter or exit the interstate.
Over the past several years, Central Florida has attracted residents and visitors in unprecedented numbers, which has led to increased demand on state roadways. The recently opened I-4 auxiliary lane was constructed to help ease congestion that occurs as motorists merge onto westbound I-4 from S.R. 429 and exit I-4 onto C.R. 532. This new auxiliary lane gives motorists traveling on I-4 from S.R. 429 to C.R. 532 an extra lane, so they do not have to merge into the general use lanes of I-4. The combination of these improvements was designed to increase capacity and improve traffic flow in the ChampionsGate area.
Another major achievement of the project has been the successful installation of guardrail along a 1.1-mile stretch of westbound I-4, separating the I-4 general use lanes from the parallel collector-distributor (C-D) road from S.R. 417. This guardrail, completed earlier last month, was installed to improve safety by discouraging drivers from making dangerous and illegal maneuvers over the grass median in an attempt to cut across traffic.
Additional work includes milling and resurfacing eastbound and westbound I-4 from the Polk/Osceola County line to west of S.R. 417, and milling and resurfacing S.R. 429 between I-4 and Sinclair Road. Milling and resurfacing will create a smoother roadway for motorists and extend the life of the pavement. Construction began in late November 2021 and is anticipated to reach completion in early 2024.
For more information on the progress of this project of I-4 Beyond the Ultimate, visit I4beyond.com/ChampionsGate or follow us on Twitter at @i4Ultimate.
Fire Rescue Drill at Daryl Carter Parkway Keeps Crews Prepared
July 21 was no ordinary day at the Daryl Carter Parkway interchange project construction site. Construction crew members and the Orange County Special Operations Fire Rescue squad completed drill training to prepare for emergency incidents at construction sites.
Roberto Corchado, lead trainer of the Orange County Special Operations squad's training division, and Kenny Wooten, a project superintendent, selected two training scenarios: a high-angle rescue and a crush rescue. "We were looking for things we don't see on a daily basis," Wooten said.
Construction crew members and engineers became actors. Then the stage was set with a crash dummy's lower half crushed underneath a concrete pile and another hanging from a ladder located in a deep pit. The actors discovered the scene and called for help. The rescue squad arrived within minutes, saving both victims simultaneously.
The crash dummy dangling in the deep pit required a rope rescue response. The squad used ropes held by members above while one rescuer rappelled down into the pit. The rescuer carefully disentangled the dummy's legs from the ladder and secured it with a rope. Rope pullers assisted the rescuer in lifting the dummy up and out of the pit.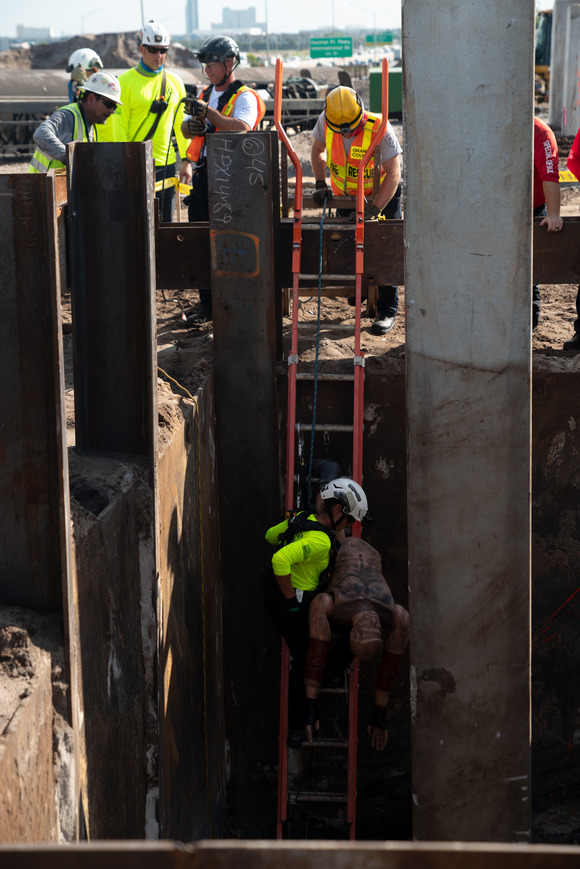 The squad's first attempt to remove the crush victim from beneath a fallen concrete pile involved an on-site construction crane and its operator. When the crane broke down (a planned curveball), the team quicky came up with plan B and brought out a high-pressure airbag. As the airbag lifted the concrete pile, rescuers used wood they gathered from the site to stabilize it with a technique known as cribbing. Applied together, the airbag and cribbing ensured a safe and successful rescue.
The final act for the day involved the construction team and Special Operations Fire Rescue Squad closing out the group with lessons learned from the event. The squad was able to complete its emergency response in 24 minutes total time, which was deemed a success.
"We're constant learners. Those who don't train [hard] don't last long," Corchado said.
Drills like this help ensure the Orange County Special Operations Fire Rescue squad is prepared to address a wide range of potential safety scenarios on active construction sites.
Mechanically Stabilized Earth (MSE) Retaining Walls on the Rise at Daryl Carter Parkway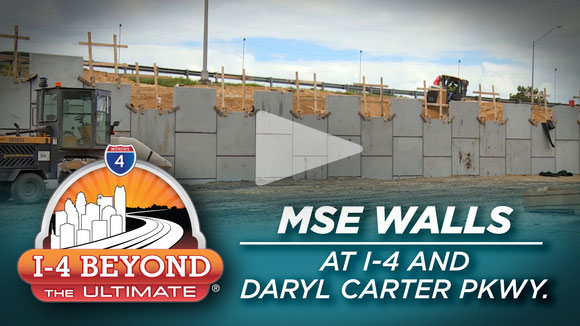 Click on image above to view video.
Since much of the initial work on a road construction job takes place behind the scenes and under the ground, it's always exciting to see the first signs of above-ground progress. For I-4 Beyond the Ultimate's Interstate 4 (I-4) at Daryl Carter Parkway Interchange project, which got underway in November 2022, that first visible formation is the start of construction of an exit ramp leading drivers from westbound I-4 to Daryl Carter Parkway.
Each of the project's three new ramps (one exit ramp from each direction of I-4 and one eastbound entrance ramp from Daryl Carter Parkway) will be constructed with "mechanically stabilized earth" (MSE) retaining walls. This dramatic design consists of interlocking concrete panels and attached reinforcement straps that restrain and strengthen the material on which roadways and interstate structures stand.
Each row of panels is locked into place with the help of a crane. The reinforcement straps are run through loops embedded in the backs of the panels. These are laid out on the ground in a zig-zag arrangement, then staked down at the ends. Next, workers use heavy machinery to compress highly compactable sand behind the panels and atop the straps. This process is repeated until the MSE walls and layers of sand are built up to the desired elevation.
The concrete panels fit together like puzzle pieces and can be arranged in a variety of eye-catching geometric patterns. As a last step, the panels are painted. MSE walls already constructed along the I-4 Ultimate and I-4 Beyond the Ultimate corridor — like the ones at the I-4 and Kirkman Road (State Road (S.R.) 435) interchange — all utilize cohesive brown and sand tones.
In addition to the new ramps being constructed at Daryl Carter Parkway, the new interchange is being transformed into a diverging diamond interchange. Construction of a single, buffer-separated, westbound express lane in the center of I-4 between Central Florida Parkway and Daryl Carter Parkway is also part of this project.
Visit the project page to learn more about the I-4 at Daryl Carter Parkway project.
FDOT Keeps Central Florida Stakeholders Informed of I-4 Improvements in Attractions Area
The I-4 Beyond the Ultimate team got the opportunity to present information on upcoming roadway changes to the Central Florida Hotel & Lodging Association (CFHLA) on August 9. The visit shared more information with CFHLA members about Interstate 4 (I-4) construction projects underway in the attractions area.
The CFHLA is the largest regional hospitality association in the United States. The membership includes managers representing nearly 80% of the more than 129,500 hotel rooms in Orange, Seminole, and Osceola counties and nearly 500 supplier organizations that do business with the hospitality and tourism industries. The I-4 Beyond the Ultimate team works to ensure that our stakeholders receive timely and important information on some of the major projects that may affect their businesses.
I-4 is the region's transportation backbone and is a vital piece of the overall transportation network in Central Florida. Several projects are underway in the attractions area to the south of I-4 Ultimate, including the reconstruction of the I-4 and Sand Lake Road (State Road (S.R.) 482) interchange, which will be transformed into a diverging diamond interchange (DDI), with a loop ramp connecting I-4 and westbound Sand Lake Road to Turkey Lake Road.
DDIs are innovative interchanges in which traffic crosses over to the left side of the roadway, making it more efficient by reducing the number of traffic signal phases. They also eliminate left turns crossing in front of oncoming traffic, which improves safety.
The Daryl Carter Parkway overpass is also being transformed into a partial DDI, with I-4 exit ramps from both directions and a new I-4 eastbound entrance ramp. The Daryl Carter Parkway and Sand Lake Road projects will also include segments of a new I-4 Express extension.
Starting this fall, FDOT will begin improvements to the I-4 interchange at Apopka-Vineland Road (S.R. 535), a project which includes the third part of the I-4 Express extension. Additionally, FDOT will widen the westbound I-4 exit ramp to S.R. 528 from one to two lanes. Construction for both projects is expected to begin later this year.
As Central Florida evolves, the Florida Department of Transportation (FDOT) is investing in roadway and multimodal improvements so everyone can continue to enjoy safe and reliable choices when they travel, maintaining Florida's position as a leader in transportation.
To stay up to date with all I-4 Beyond the Ultimate projects, visit I4Beyond.com.
I-4 Beyond the Ultimate Toolkits Help Information Seekers Dig Deeper
When an I-4 Beyond the Ultimate construction project reaches an important milestone, it often generates a lot of media attention and public interest. Conversation quickly turns to questions of changes in traffic patterns, expected time frames, and safety enhancements.
For those wanting to learn more, the Florida Department of Transportation (FDOT) has at the ready a series of informational toolkits on the I-4 Beyond the Ultimate website. Toolkit topics range from construction projects at specific locations on Interstate 4 (I-4) — such as those currently underway at the I-4 interchanges at Sand Lake Road (State Road (S.R.) 482) and Daryl Carter Parkway — to the innovative roadway structures that are being used to improve safety and mobility in Central Florida.
Each toolkit houses a collection of materials in various formats about its topic and serves as a one-stop shop for information seekers. For example, toolkits typically include articles, videos, shareable social media posts, handouts, charts, and graphics. Links leading to related details, such as technical descriptions and documentation, are also available.
Explore all I-4 Beyond the Ultimate toolkits:
Improvements to I-4 and Daryl Carter Parkway
Improvements to I-4 and Sand Lake Road (S.R. 482)
Diverging Diamond Interchange Toolkit
Learn More about Roundabouts
General I-4 Beyond the Ultimate Toolkit