Overhead View Shows Progress at Daryl Carter Parkway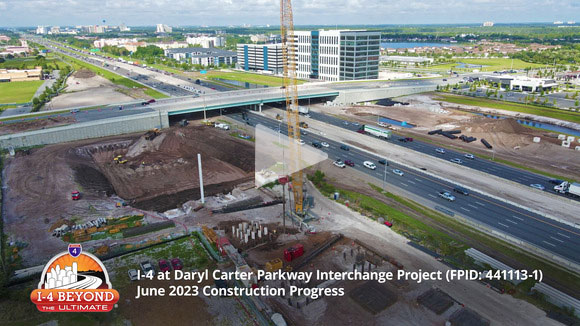 Click on image above to view video.
The Interstate 4 (I-4) and Daryl Carter Parkway interchange project is progressing smoothly and on schedule with an expected completion timeframe of early 2026.
The project is transforming the Daryl Carter Parkway overpass into a diverging diamond interchange, providing additional access to local attractions and helping to relieve congestion at the I-4 and Apopka-Vineland Road (State Road (S.R.) 535) interchange.
The project is adding three new ramps connecting I-4 to Daryl Carter Parkway: exit ramps from both directions of I-4 to Daryl Carter Parkway and an entrance ramp to eastbound I-4. A westbound I-4 entrance ramp will be built as part of a future project.
Look at the above drone video of the project's progress, taken in June. In the foreground of the video, you can see construction crews driving piles for the new eastbound I-4 ramp structure. In the area across I-4, the construction of new retention ponds is visible, as well as a staging ground for materials to build the new ramps. Workers are also in the I-4 median under Daryl Carter Parkway installing drainage and laying the groundwork for the upcoming westbound extension of I-4 Express.
To learn more about the I-4 and Daryl Carter Parkway project, please visit the project page.
Fence Banners Help Hide Construction at Sand Lake Road
To accommodate current and future traffic needs, the Florida Department of Transportation (FDOT) is reconfiguring the Interstate 4 (I-4) and Sand Lake Road (State Road (S.R.) 482) interchange as part of I-4 Beyond the Ultimate. Construction began in spring 2023 and is anticipated to reach completion in late 2028.
Construction activities in the area along Sand Lake Road are increasing at the intersection of I-4 and Turkey Lake Road. FDOT is aware that this can sometimes be an unsightly visual to those in the community and for those traveling into the area to visit one of Orlando's many attractions. To mitigate this issue, FDOT has designed and installed several banners on the construction fencing in the Sand Lake Road area. These banners help to cover up the visual clutter of construction.
The messaging on the banners was selected purposefully. For example, one banner speaks about using the sidewalks and crosswalks. This is to encourage sidewalk safety, because during the Sand Lake Road project, sidewalk traffic will also be affected by changing patterns. Another banner displays two children in construction safety attire and the messaging states "Drive Safely Our Parents Work Here." This message is to encourage safe driving in the construction zones.
These are just a couple of examples, but drivers will see several other designs as they travel through the area. The primary locations for the banners that have been hung so far are along the eastbound I-4 entrance ramp from Sand Lake Road, as well as the eastbound I-4 exit ramp at Sand Lake Road. So far, 20 banners have been deployed along the fencing in the construction area. There will be more banners displayed around the construction areas of Sand Lake Road in the coming weeks and months as more work zones are fenced off.
If you want to stay informed on the construction going on at Sand Lake Road, make sure to sign up for email alerts.
FDOT Wishes a Happy Retirement to I-4 Beyond the Ultimate Project Manager Beata Stys-Palasz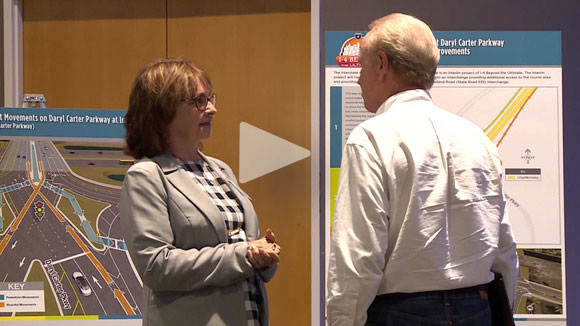 Click on image above to view video.
Beata Stys-Palasz, P.E., has played an integral role in some of the Florida Department of Transportation's (FDOT's) biggest infrastructure projects, including overseeing the design teams for I-4 Ultimate and I-4 Beyond the Ultimate. Born in Poland, Beata came to the United States and has left a lasting mark on the modern landscape of Central Florida. The video above discusses Beata's inspirational story. We wish her all the best in her retirement.
Back-to-School Driving Safety: Guidelines for Keeping Central Florida's Students Safe
When Central Florida students flood their classrooms in August, they will be accompanied by a wave of additional traffic, more pedestrians and bicyclists, and, of course, the reappearance of school buses. All this extra activity on our roadways — compounded by the presence of excited children — makes back to school a great time for motorists to study up on some key safety points:
Be on heightened lookout for children near schools, bus stops, school buses, and neighborhood areas.
Expect children on bicycles to make sudden changes in direction or even to take a tumble.
Pay attention to lower speed limits in school zones, and avoid blocking crosswalks, changing lanes, making U-turns, and passing other vehicles.
Watch for school crossing guards and always obey their instructions.
Put down your phone/go hands-free. Florida law prohibits holding your phone in school zones.
School bus safety is a particular cause for concern, and sometimes confusion, for motorists. For example, did you know that the only time traffic approaching does not need to stop for an oncoming school bus with its red lights flashing is if there is a raised barrier such as a concrete divider or at least five feet of unpaved space separating the lanes of traffic? (But you should still watch for students, regardless.)
Here are more bus safety specifics:
Drivers must stop when approaching a school bus that is stopped with its red lights flashing and stop arms extended (except as noted above).
Drivers moving in either direction on a two-way street must stop for a school bus displaying a stop signal and must remain stopped until the road is clear of children and the school bus stop arm is withdrawn.
Finally, remember that children and school buses can be present in roadway construction sites and on neighboring streets, adding to the inherent hazards. Back to school is a great time to research your route in advance to steer clear of work zones, anticipate lane closures, etc. We recommend signing up for our construction alerts and updates and then going through these work-zone safety concepts for even more safe-driving tips. Drivers who take the time to learn and follow safe-driving guidelines can help keep children out of danger during back to school — and all year round.