Construction Will Start Soon at I-4 and Sand Lake Road
The Sand Lake Road (State Road (S.R.) 482) and Interstate 4 (I-4) interchange provides a vital gateway to some of Central Florida's biggest attractions. More than 70,000 vehicles travel Sand Lake Road each day at the I-4 interchange. To accommodate current traffic and future needs, construction of a reconfigured interchange will begin soon as part of I-4 Beyond the Ultimate.
This junction of vital roadways is being reimagined as a diverging diamond interchange (DDI). A DDI improves safety and mobility in several ways. First, it eliminates the need for left turns across oncoming traffic. Compared to a conventional interchange, a DDI has fewer conflict points, or places where vehicles cross paths, reducing the potential for collisions. It also reduces the number of traffic signal phases, allowing almost double the vehicles to travel through the interchange in the same amount of time.
One of the most noticeable features of this construction project will be the addition of a new loop ramp that will allow easier access from westbound Sand Lake Road to Turkey Lake Road. This ramp will also provide direct access to Turkey Lake Road from westbound I-4. The addition of the loop ramp will eliminate the need for a left turn onto southbound Turkey Lake Road from westbound Sand Lake Road. The elimination of the left turn is expected to improve safety and backups due to motorists no longer having to cross multiple lanes of traffic in a short distance from the I-4 exit ramp to access Turkey Lake Road. The project will also reconfigure and lengthen ramps at the interchange.
In addition, the project will include reconstructing the I-4 general use lanes from west of Sand Lake Road to the end of the I-4 Ultimate project. Two westbound, barrier-separated, express lanes will be built from west of Sand Lake Road to west of Kirkman Road. These will transition to a single, buffer-separated express lane in the westbound direction west of Sand Lake Road and tie in just west of Central Florida Parkway. This express lane will be constructed in three separate projects with the finished lane extending from west of Sand Lake Road to west of S.R. 536.
To learn more about this project and to view videos and handouts about the upcoming improvements, visit i4beyond.com/SandLake. If you are interested in receiving advance construction alerts about lane and road closures by SMS or email, visit fdot.tips/alerts.
Additional Capacity Coming Soon to Interstate 4 in Osceola County
Work continues to add capacity to Interstate 4 (I-4) in Osceola County. Crews are constructing new eastbound and westbound I-4 auxiliary lanes, one in each direction, between the ramps of State Road (S.R.) 429 and County Road (C.R.) 532, as well as an auxiliary lane on northbound S.R. 429 between I-4 and Sinclair Road. The westbound I-4 exit ramp and the eastbound entrance ramp at the C.R. 532 interchange will also be widened to two lanes.
An auxiliary lane is an extra lane connecting the on and off ramps between two consecutive interchanges. An auxiliary lane allows drivers wanting to merge onto the interstate a longer distance to do so and helps reduce bottlenecks caused by drivers attempting to enter or exit the interstate. The combination of these improvements is anticipated to increase capacity and improve traffic flow in the area.
With construction having begun in late November 2021, motorists traveling in the area will soon be able to take advantage of the additional capacity. The westbound I-4 auxiliary lane is almost complete and will be open to traffic in early spring of this year. In the photo below, you can see the westbound I-4 auxiliary lane taking shape, to the right of the orange barrels.
Additional progress on westbound I-4 between S.R. 429 and C.R. 532 has included the lengthening of an existing box culvert, shown in the picture below. A box culvert functions like a large, rectangular pipe. At this location, it allows for a flow of water between the wetland bodies located on either side of the interstate corridor.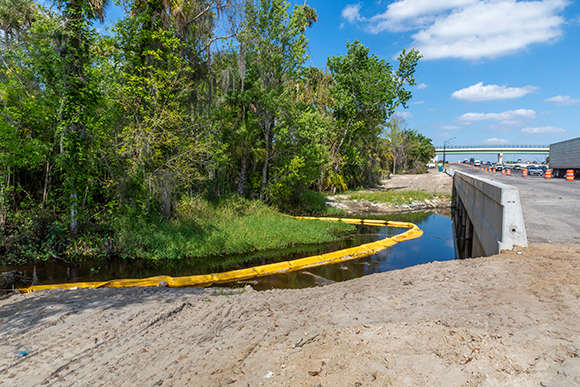 The auxiliary lane on eastbound I-4 from C.R. 532 to S.R. 429 is expected to be open to traffic shortly after the westbound side, with an anticipated completion in mid-spring. The below photo shows the current progress to the eastbound I-4 auxiliary lane and the additional capacity that it will bring once opened to the traveling public.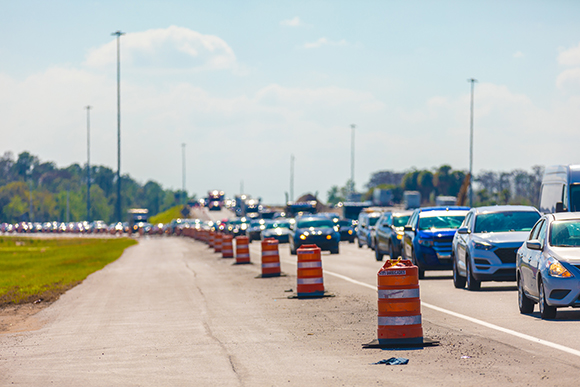 While the eastbound and westbound I-4 auxiliary lanes are expected to be open to the traveling public this spring, motorists will continue to see construction improvements as the project continues. In addition to the auxiliary lane construction, the Florida Department of Transportation (FDOT) will be milling and resurfacing eastbound and westbound I-4 from the Polk/Osceola County line to west of S.R. 417.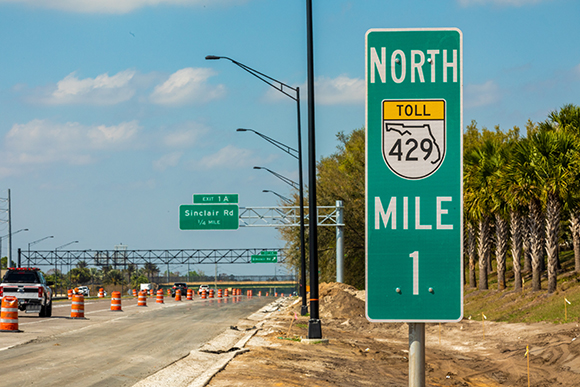 Progress also continues on the construction of an auxiliary lane on northbound S.R. 429 between I-4 and Sinclair Road, shown in the above picture. The photo below shows work on the ramp from westbound I-4 to northbound S.R. 429. As shown in the picture, progress has been made on widening of the ramp — a necessary step in adding the auxiliary lane. Recent traffic shifts on S.R. 429 indicate continuing progress. The most recent shift moves the northbound S.R. 429 travel lanes a few feet to the outside to prepare for the road's final configuration. The project also includes milling and resurfacing S.R. 429 between I-4 and Sinclair Road.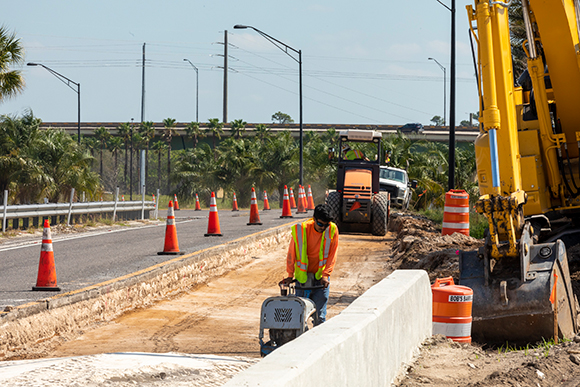 These interim projects of the I-4 Beyond the Ultimate program are expected to reach final completion in early 2024. For more information on the progress of these capacity projects, visit I4beyond.com or follow us on Twitter at @i4Ultimate.
Personalized Alerts Keep You Informed on I-4 Construction Impacts Along Your Route
With two major highway construction projects ongoing along Interstate 4 (I-4) in Orange County and another in Osceola County, it's an excellent time to sign up for personalized advance construction alerts. The advance alerts are a service of the Florida Department of Transportation (FDOT) and part of the Department's efforts to keep the public informed about activities related to I-4 Beyond the Ultimate.
Advance construction alerts provide you with a daily or weekly preview of upcoming lane and road closures due to construction projects. You can also sign up for hour-before alerts that will let you know when a closure is about to happen. You can opt to receive the alerts via email, text message, or both.
Visit i4beyond.com/alerts to sign up and customize your advance construction alerts. If you drive through the construction zones at Daryl Carter Parkway, Sand Lake Road (construction begins there soon), or Osceola County, you can choose to receive alerts just in those areas. If you drive longer distances on I-4, you can sign up to receive alerts between two interchanges — for example, between U.S. 27 and Universal Boulevard.
You can also keep up with construction activities by following I-4 Beyond the Ultimate on Twitter, and signing up for the monthly newsletter and project updates. Visit i4beyond.com/signup to stay connected.
Video: Upcoming Improvements at County Road 46A and Rinehart Road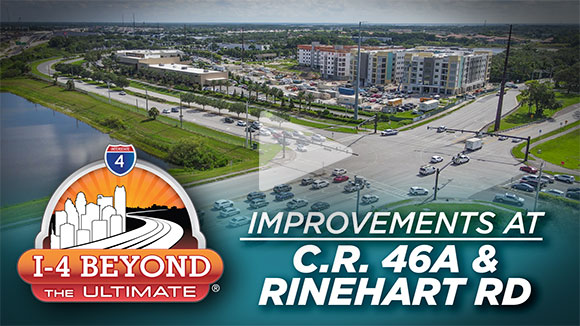 Click on image above to view video.
The Florida Department of Transportation (FDOT) will soon begin work on safety and operational improvements at the intersection of H.E. Thomas Jr. Parkway (County Road (C.R.) 46A) and Rinehart Road in Seminole County, near the interchange of Interstate 4 (I-4) and C.R. 46A. This video details the work that will be part of the project.
National Work Zone Awareness Week Coming in April
Every spring, the Federal Highway Administration (FHWA) sponsors National Work Zone Awareness Week to bring awareness to motorist and worker safety in and around roadway work zones. This year's observance will run from April 17-21. Thanks to the recently passed bipartisan infrastructure law, states now have more resources to maintain and rebuild roads and bridges, which means an increase in roadway construction and the number of work zones you'll see while out driving.
According to the most recent statistics from the FHWA, 117 workers died in highway work zones in 2020. As a motorist, keep the following tips in mind to help ensure everyone gets home to their loved ones safe and sound:
Slow down and pay attention while in work zones.
Be aware of signs and instructions from road workers.
Merge safely and avoid changing lanes while navigating work zones.
Expect the unexpected, as work zones can change rapidly.
Remain patient and courteous as some delays may be unavoidable.
According to the FHWA, speed was a contributing factor in over 37 percent of 2020 fatal work zone crashes, increasing from 32 percent in 2019. Sudden stops also play an important factor. In 2020, 20 percent of all fatal work zone crashes involved rear-end collisions.
Minimize distractions as much as possible while navigating work zones. Florida Statutes Section 316.306 states a person may not operate a motor vehicle while using a wireless communications device in a handheld manner in a designated school zone or active work zone. Refrain from texting or making phone calls until you're able to park your vehicle in a safe area.
Even if you're a pedestrian, it's important to stay vigilant and aware of your surroundings while in work zones. The 2020 FHWA study showed 170 people on foot or bicycles lost their lives in work zone crashes. Keep an eye out for large construction vehicles entering and exiting work zones.
Everyone is responsible for making roadway work zones safe for motorists, pedestrians, and construction workers, and together we can reduce the number of work zone crashes and injuries.
For more information on National Work Zone Awareness Week, visit fdot.gov/agencyresources/workzone.