Construction Will Start Soon at I-4 and Daryl Carter Parkway
A major project that's part of I-4 Beyond the Ultimate will begin construction in the coming weeks. The current Daryl Carter Parkway overpass that spans Interstate 4 (I-4) between Central Florida Parkway and State Road (S.R.) 535 will be converted into a partial I-4 interchange with three new ramps to connect the road with I-4.
Crews will construct exit ramps from both directions of I-4 and add an eastbound entrance ramp. Access to the eastbound entrance will be provided from both directions on Daryl Carter Parkway. A westbound I-4 entrance ramp will be built as part of a future project. The new interchange will be a diverging diamond interchange configuration, enhancing safety and mobility for motorists visiting retailers and restaurants in the Lake Buena Vista area.
In addition, this project will include the construction of a single, buffer-separated, westbound managed lane between Central Florida Parkway and Daryl Carter Parkway. This will be one segment of the managed lane, which will be constructed in three separate projects, with the finished lane extending from west of Sand Lake Road to west of S.R. 536. The other two sections of the managed lane will be part of the upcoming improvement projects at the Sand Lake Road (S.R. 482) interchange and at the S.R. 535 interchange.
To learn more about this project and to view videos and handouts about these improvements, visit the project page at the I-4 Beyond the Ultimate website.
FDOT Hosts Engineers Visiting from International Road Federation
On October 17, the Florida Department of Transportation (FDOT) held a construction site visit to serve as a learning opportunity for visiting international engineers. The site visit allowed engineer members of the International Road Federation (IRF) from countries across the globe to learn more about the innovative diverging diamond interchange (DDI) at Interstate 4 (I-4) and County Road (C.R.) 532 near ChampionsGate, which is nearing completion.
FDOT hosted engineers from Belize, Ghana, Liberia, and Zambia. Through this unique opportunity, the visitors gained firsthand knowledge from engineers who worked on the DDI project. Dan Barbato, the senior project administrator for construction, engineering, and inspection on the ChampionsGate DDI project, served as facilitator for the discussion. Barbato explained the benefits of the DDI, provided an update on the current construction progress, and outlined further improvements planned for the area through the adjacent auxiliary lanes project. The engineers were able to ask questions about aspects of the DDI such as design, construction sequencing, and operation.
The group discussed best practices for civil engineering in the U.S. and the most effective methods for keeping the public informed of upcoming traffic pattern changes, detours, and road closures. FDOT public information consultants were on site to provide details on community outreach efforts and how FDOT keeps businesses and residents up to date on construction activities that impact local traffic. FDOT and IRF representatives also discussed project maintenance and inspection practices after construction is complete.
FDOT is proud to partner with the IRF to exchange ideas and practices with our colleagues from around the world to promote the development of safer and smarter travel.
Video: Maintaining Work Zone Safety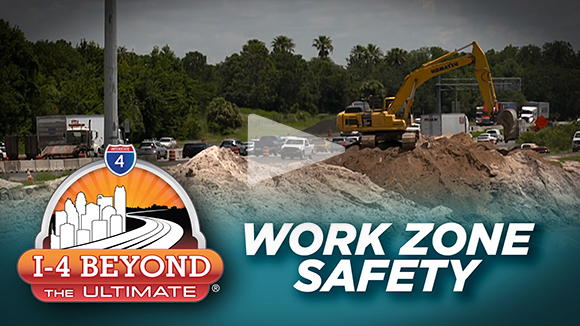 Click on image above to view video.
With projects currently under construction in the I-4 Beyond the Ultimate area in Osceola County, and with more starting soon both south and north of downtown Orlando, the Florida Department of Transportation (FDOT) would like to remind motorists to keep themselves and the workers on site safe. This video outlines some important safety tips that can help with that and explains what to expect in work zones.
QUIZ: Arrive Safely this Holiday Season
November and December are wonderful times to meet up with family, spend time with old friends, and enjoy the holidays with loved ones, but it's also statistically one of the most dangerous times to travel. According to the National Highway Traffic Safety Administration (NHTSA), during the 2019 Thanksgiving holiday weekend, 528 people were killed in crashes across the country, and about half of those people weren't wearing seat belts.
Having a plan for getting to and from your destination and sticking to it is a great way to stay safe. Utilizing a ride-share or taxi is one way to ensure you have a designated driver at the end of the night, but there are still things to keep in mind when calling one.
Double-check the vehicle picking you up by taking note of the license plate and asking the driver's name to confirm it matches the information given in the app.
When choosing a location where you'll be picked up, select an area that's away from the roadway, well lit, and where your driver can safely stop.
Always wear a seatbelt, even if it's a quick ride and even if you're in the back seat.
To get to distant destinations, you might opt to load up the car and embark on a road trip. Here are some tips to keep in mind from the Florida Department of Highway Safety and Motor Vehicles (FLHSMV) before setting out:
Plan ahead.
Research the route you'll be taking, check relevant weather forecasts, and take note of construction projects and speed limits in the area.
Check your vehicle's fluid levels and tire conditions.
Register or update your Emergency Contact Information (ECI) with FLHSMV so law enforcement can contact your loved ones quickly in the event of an emergency — even across state lines.
Never drive impaired.
Celebrate responsibly and never get behind the wheel if you're under the influence of drugs or alcohol.
Driving tired can be just as dangerous as driving under the influence of drugs or alcohol, so plan frequent stops and pull over anytime you begin to feel drowsy.
Don't drive distracted! Reading or sending a text takes your eyes off the road for at least five seconds, and at 55 mph, that's like driving the length of an entire football field with your eyes closed.
While it's important to have fun this holiday season, it's even more important to act responsibly so that you, your passengers, and other road users can stay safe.
Download the FLHSMV Road Trip Checklist & Safety Tips form for additional resources on how to be safe this holiday season.
To learn more about safe holiday travel, visit the FLHSMV site.
Take this quiz to test your knowledge of safe holiday travel.