QUIZ: Drive Sober This Holiday Season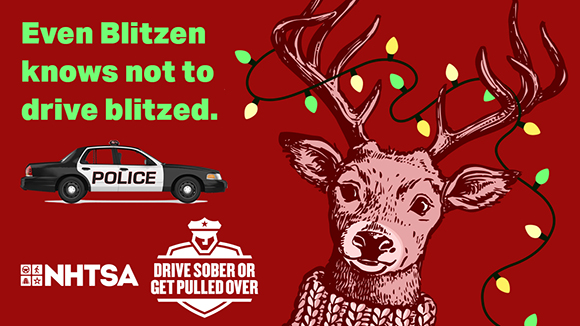 Take our quiz to test your knowledge of driving sober during the holiday season.
It's that wonderful time of the year again! Everyone is visiting family and friends, celebrating holidays, and enjoying some time off. With so many people on the roads — whether doing some last-minute shopping or going to and from gatherings — it's critical to stay sober while driving for your safety, as well as that of your passengers and others on the roadway.
According to the most recent data from the Centers for Disease Control and Prevention, 29 people in the United States die in motor vehicle crashes that involve an alcohol-impaired driver every day. That's one death every 50 minutes, or about 10,000 lives lost a year. Drugs other than alcohol (both legal and illegal) are involved in about 16% of motor vehicle crashes.
There are many drugs that might affect your ability to safely operate a vehicle. If you're taking prescription medication, check the label for warnings prior to driving. It's also important to remember that mixing drugs and alcohol often amplifies their effects. For example, having one drink while taking cold or allergy medication could result in the same effect as having several drinks.
There are five major signs of impairment.
A slowed reaction time.
Decreased hand-eye coordination.
Difficulty perceiving time and distance.
Weakened concentration.
Limited short-term memory functions.
At the beginning of the evening's festivities, come up with a safe plan for travel and stick to it. Utilize a rideshare or taxi, appoint a designated driver, or make plans to stay at the location you'll be at.
Here are some common myths and facts to keep in mind:
Myth: Coffee or an energy drink is enough to sober up someone who's impaired.
Fact: A person might be more awake, but they'll still be impaired. Only time can sober a person up.
Myth: If someone has only had a few drinks and doesn't look drunk, they should be fine.
Fact: Just because someone might not appear to be drunk does not mean they're not impaired. Judgment is the first thing affected when someone has been drinking. Coordination and motor skills are a close second and third.
Myth: If a person is impaired, they can just ride their bike home.
Fact: In Florida, bicycles are subject to the same laws as all other motor vehicles. If a person rides impaired, they can still get a DUI.
Being informed and having a plan ensures everyone has a safe and happy holiday season.
For more information, visit fdot.gov/agencyresources/impaireddriving-holidays.