New Traffic Pattern Coming to ChampionsGate
The Florida Department of Transportation (FDOT) is transforming the Interstate 4 (I-4) and County Road (C.R.) 532 interchange near ChampionsGate into a diverging diamond interchange (DDI). This innovative interchange is designed to improve safety and mobility in the area. A new traffic pattern will begin at the interchange as soon as Sunday, July 10. The new pattern will move traffic through the interchange into the final DDI pattern. Motorists approaching the interchange on C.R. 532 will switch to the left side of the road at a traffic signal. After passing under the interstate, they will return to the right side at another traffic signal.
Motorists should expect an overnight closure of C.R. 532 for construction and lane striping as soon as Saturday, July 9. For detour information, please visit i4Beyond.com/detours.
Once the DDI traffic pattern is in effect, motorists will no longer turn left across the opposing lane at any point in the interchange. In addition, the number of signal phases will be reduced from four to two, which will lead to more efficient traffic movement through the DDI. Conflict points — locations in the interchange where vehicles' paths merge, diverge, or cross — will be reduced by more than half.
Although the DDI will be in place soon, work will continue at the interchange to add bicycle and pedestrian features — there is currently no pedestrian access through the interchange. Intelligent transportation system (ITS) technology, signage, signalization, curbs, and landscaping will also be installed during the remainder of this project, and the roadway will be milled and resurfaced.
For more information, visit the project page at I4beyond.com.
Aerial Photos Show Progress at ChampionsGate Interchange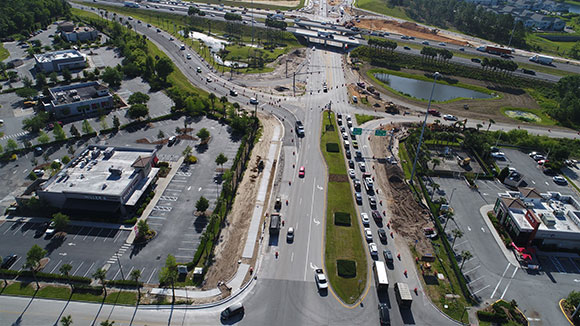 The first aerial shows the west side of the interchange, looking east down C.R. 532 toward I-4, which stretches over the surface road below.
As work continues on the new diverging diamond interchange (DDI) at Interstate 4 (I-4) and County Road (C.R.) 532 near ChampionsGate, drivers in the area can expect a new traffic pattern as soon as Sunday, July 10. The DDI is starting to take shape, and aerial photos show how the landscape has changed at the interchange. Let's examine some recent aerial shots showing how the work has progressed in locations throughout the project area.
"The area in front of Ale House (above photo, bottom left) had drainage structures installed along the curb line, and new curb and sidewalk poured," said Mahmoud Heda, an assistant project administrator on the ChampionsGate DDI construction team. "There was some (road) widening in front of the curb and along Goodman Road, so subgrade and base was put in, as well as new asphalt. The right side in front of the Wendy's (bottom right) is being worked on with drainage structures and pipe going in. There is still widening to be done in that area."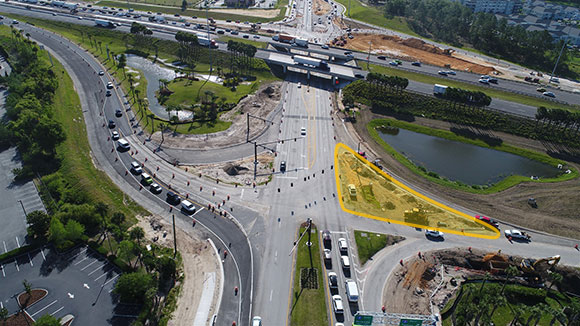 The photo above shows another view of the west side of the interchange, but much closer to I-4. In this overhead shot, it's easy to see how traffic on the exit ramp from westbound I-4 will transition onto eastbound and westbound C.R. 532, as well as how the ramp on the right will move traffic from eastbound and westbound C.R. 532 onto westbound I-4 toward Tampa.
"The westbound exit from I-4 has been widened with all new asphalt, so subgrade, base, and structural asphalt was placed on this ramp, as well as on the (new) left turn," Heda said. "The ditch along the new ramp to westbound C.R. 532 has been graded and is ready for sod in this photo. The new section of the westbound I-4 entrance ramp, which will accommodate eastbound traffic on C.R. 532 in the new configuration — where the trucks are parked in the highlighted area of the photo — is all new, with subgrade, base, and structural asphalt going in, as well as new curb."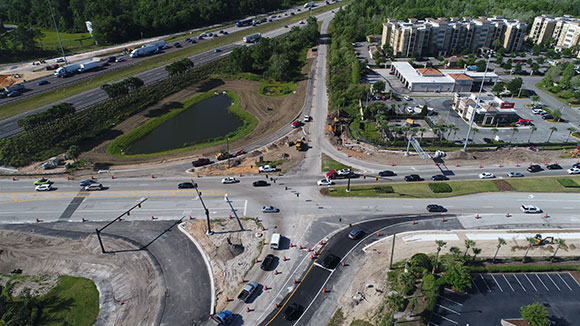 The above aerial shows more widening taking place along the entrance ramp to westbound I-4 and where new sod will go around the retention pond.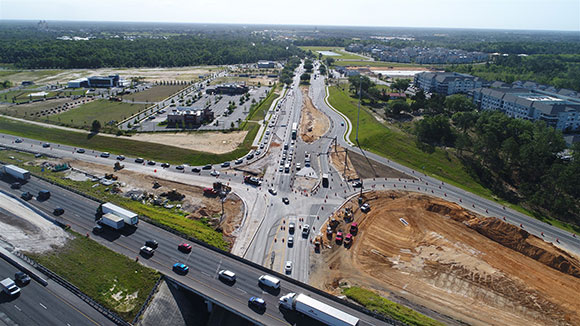 The area on the right in this photo, which is the southeast corner of the interchange, will be home to a new retention pond.
"The pond is complete and is ready for landscaping," Heda said. "There was widening and some new base and structural asphalt on the exit ramp from eastbound I-4, where the curves are beginning to appear, as well as the new ramp to eastbound C.R. 532."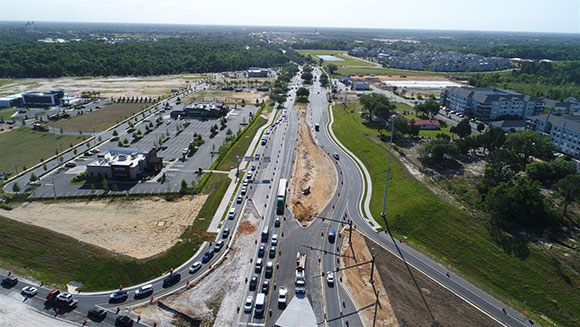 Moving further east along C.R. 532, this photo shows the widened and completely rebuilt entrance ramp to eastbound I-4, which is in its final configuration, on the left.
"Lots of new curb and sidewalk went in along this area as well," Heda said.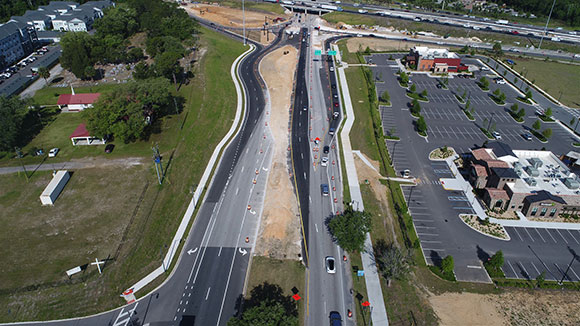 For this image, the camera is looking westbound along C.R. 532 toward I-4. Note how the roadway has been reshaped to accommodate traffic coming eastbound through the DDI under I-4.
"You can see the new asphalt versus the old asphalt well here," Heda said. "The median has new curb poured along one side to show the final shape. The old asphalt will be milled and resurfaced soon."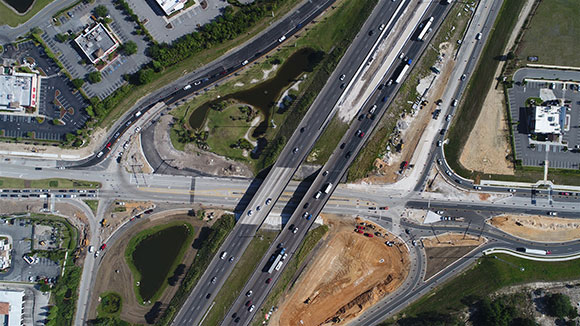 This shot from high over the interchange shows both ponds west of I-4 are complete.
"There is some more widening still to be completed and then it's just a matter of building the islands and putting in new asphalt (in the ramp areas)," Heda said.
For more information on the DDI project at ChampionsGate visit I4beyond.com.
How to Be Safe and Prepared During Summer Travel
You've checked everything off your list for that beach trip – sunscreen, snacks, book, phone charger, change of clothes – but have you checked your vehicle to make sure it's road ready?
AAA - The Auto Club Group expects a significant increase in the number of Americans traveling this summer, and Orlando is among the top five destinations for road trippers. If you're ready to hit the road this year, here are some tips on how to avoid any issues and keep yourself and others safe during your trip.
The Florida Department of Highway Safety and Motor Vehicles (FLHSMV) recommends drivers check the following on their car before their trip:
Check for recalls at NHTSA.gov;
Inspect tires, including the spare, for any damage and to make sure the tire thread is adequate;
Check all fluid levels;
Check the brakes and listen for any grinding sound or vibration;
Check the battery to make sure it is fully charged;
Check that all headlights are working; and
Replace worn windshield wipers.
View or download the FLHSMV checklist for more tips.
You'll also likely encounter some work zones or stopped emergency vehicles while traveling, and there are some Florida laws in place to help workers, public safety officials, and all road users arrive safely at their destinations.
As a reminder, drive at or below the posted speed limit when driving through work zones and put down any device while driving. If you rely on navigational systems, remember that work zones are changing environments, and GPS may not always be accurate. Trust your eyes before electronics.
Florida's Move Over Law requires drivers to move over one lane — when safe to do so — for stopped vehicles with flashing lights, including:
Law enforcement;
Emergency (fire/rescue, ambulance, etc.);
Sanitation;
Utility service;
Tow trucks; and
Road Rangers.
If you can't move over safely, slow to a speed that is 20 mph less than the posted speed limit on a two-lane roadway, or slow to 5 mph if the speed limit is 20 mph or less.
Finally, if you encounter car issues while on your trip, remember you can dial *FHP (*347) to request a Road Ranger, who is equipped to provide services such as assisting with tire changes and other minor emergency repairs, fuel, or calling a tow truck, free of charge.