Innovative Interchange Design Improves Traffic Flow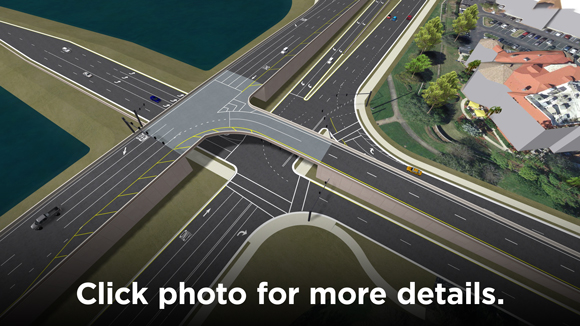 The Florida Department of Transportation (FDOT) looks for innovative ways to continue improving safety and mobility on Florida's roads.
"We have had a lot of growth in Central Florida in the last couple of years. As a result, there is congestion on heavily used roads such as State Road 535 in the Lake Buena Vista area," said Su Hao, P.E., FDOT Project Manager. "To combat this congestion, we needed to look at innovative ways to improve traffic flow."
An echelon interchange is an innovative design that is typically used where two busy streets intersect. It resembles half of a flyover intersection, with one direction of the busier road elevated, while the other direction meets the intersecting road at ground level. Ramps to and from the elevated road provide drivers access between the elevated and ground-level roads.
The two-level design of the intersection allows traffic signals to be programmed from four phases like at a typical signalized intersection down to two or three. This means the signals will be green longer, allowing more vehicles to move through the intersection. The innovative design increases safety, because it removes some left turns across oncoming traffic, reducing the number of conflict points.
An echelon interchange also increases safety for pedestrians. The elevated portion of the roadway means pedestrians are crossing fewer lanes of traffic on a busy road.
For more information about innovative interchange designs planned for I-4 Beyond the Ultimate, visit I4Beyond.com/innovations.
Value Engineering Studies Help to Bring the Best Design Forward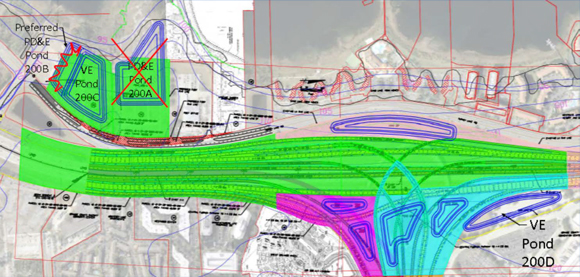 Illustration depicts an example of a creative idea to eliminate or minimize a retention pond near the intersection of Central Florida Parkway and Turkey Lake Road.
The Florida Department of Transportation (FDOT) is committed to bringing the best possible upgrades to Interstate 4 (I-4), and the value engineering process is an important mechanism in achieving that goal.
"We get together with a team of pretty much every discipline: designers, construction, maintenance, and others," said Catalina Chacon, FDOT Consultant Project Manager Supervisor. "We get together and brainstorm to generate alternative ideas that will add value to projects."
During the Value Engineering study, the team offers out-of-the-box and creative ideas. The project is streamlined while retaining the intended purpose resulting in better quality, efficiency, and most often, cost savings.
The innovative ideas get scrutinized during the evaluation phase. Ideas are ranked based on their merits and feasibility. The meritorious ideas are then fleshed out in written reports during the Development Phase. The reports include narratives, illustrations, cost comparisons, etc. Various factors such as capital costs, right-of-way impacts, level of service (quality of traffic flow), pedestrian considerations, environmental impacts, constructability, and future maintenance go into the Life Cycle Cost Analysis.
A summary of the recommended ideas is then presented to the department management during the presentation phase. The advantages and disadvantages of each recommendation are discussed to consider it for implementation.
"Value engineering is not always cost savings; it can be value added to improve the end product," Chacon said.
The team also offers design suggestions that have the potential of reducing the duration of construction and improving operational requirements for the finished project.
To view value engineering reports for the I-4 Beyond the Ultimate design segments, visit I4Beyond.com/pde.
A Brief History of Improvements at the I-4 and U.S. 17-92 Interchange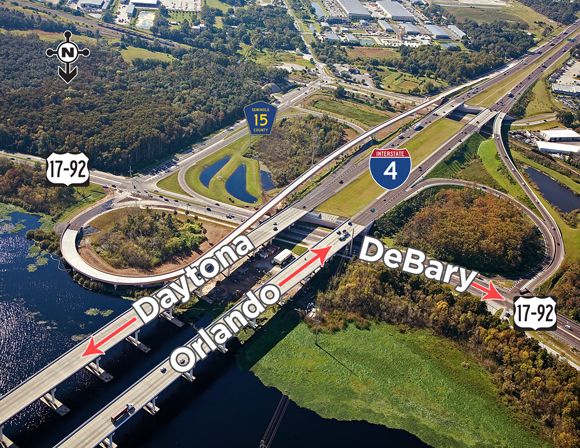 The photograph depicts the completion of the most recent construction at the

I-4

and U.S. 17-92 interchange in December 2007.
For the Florida Department of Transportation (FDOT), improving the interchange of Interstate 4 (I-4) and U.S. 17-92 in Seminole County is not a one-off project, but an ongoing commitment.
Years ago, eastbound motorists headed to DeBary or Orange City had to exit I-4 onto Orange Boulevard, proceed through a three-way traffic signal at Lake Monroe Road and cross an active railroad track in order to reach U.S. 17-92. In 2007, FDOT streamlined the trip by adding a flyover ramp that today carries traffic directly from eastbound I-4 to U.S. 17-92. The $22.3 million project not only reduced delays during afternoon rush hour but also gave emergency responders a more direct route to nearby Central Florida Regional Hospital.
Now more than 30,000 motorists use the interchange every day, and FDOT is designing additional improvements to the interchange as part of I-4 Beyond the Ultimate. The design team is looking to realign U.S. 17-92 to the south with a new bridge carrying the highway over I-4. Roundabouts are proposed to replace two existing traffic signals to improve traffic flow on the old 17-92, now known as Seminole Boulevard. The project will also widen the main I-4 bridges over Orange Boulevard and the SunRail line.
The interchange project is still in design, but preparations are already underway. In fact, one small, recent change promises big benefits for local residents. In 2017, by mutual agreement, FDOT transferred a segment of old 17-92 to the City of Sanford. The 3-mile corridor, which hugs the south edge of Lake Monroe between State Road 46 and Monroe Road, will become part of the city's expanded RiverWalk trail - making the upcoming interchange improvements a win-win for motorists, bicyclists, pedestrians, and anyone who just likes to unwind by the lake.
RiverWalk-related work has already begun along West Seminole Boulevard. A section of the road was closed for construction on March 11, and closures will continue until approximately September 30. For more information about the RiverWalk Construction Project, visit www.sanfordfl.gov/home#News.
3 Interconnected Projects Lead Central Florida into the Future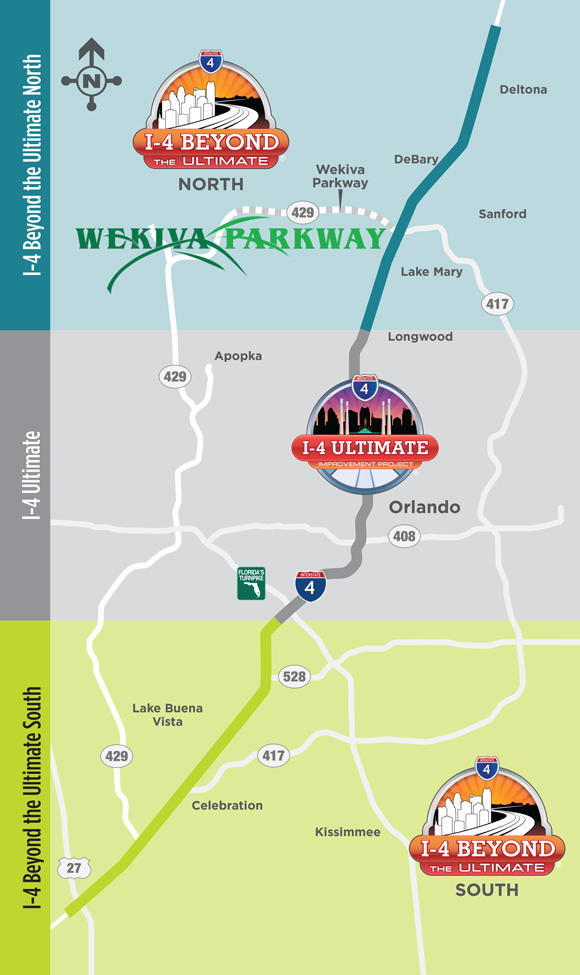 Residents and motorists, who already are familiar with the I-4 Ultimate project, may soon begin to see and hear more about the I-4 Beyond the Ultimate project. At the same time, they may also hear that the Wekiva Parkway is linking to Interstate 4 (I-4) north of Lake Mary.
So, it's natural for motorists to wonder how these three important projects taking place on major highways in Central Florida will connect and relate to each other.
In some ways, the answer is simple. All three are managed by the Florida Department of Transportation (FDOT) and all three are designed to improve safety and mobility in Central Florida. Each also has its own very detailed website. Briefly stated, the three projects are:
I-4 Ultimate is the current 21-mile reconstruction of I-4 that stretches from the interchange with Kirkman Road (S.R. 435) in Orange County through downtown Orlando to the interchange with State Road (S.R.) 434 in Seminole County.
I-4 Beyond the Ultimate is a collection of design segments that will improve I-4 for another 20 miles on both ends of the I-4 Ultimate project. Two interim projects will start in 2019 in Seminole County to improve traffic flow on eastbound I-4 and extend the life of the I-4 travel lanes. Another interim construction project is scheduled to begin in 2020 that will transform the Daryl Carter Parkway overpass into an interchange with eastbound I-4 exit and entrance ramps and a westbound I-4 exit ramp. Also in 2020, the first complete reconstruction of an interchange for I-4 Beyond the Ultimate is expected to begin at Sand Lake Road (S.R. 482). I-4 Beyond the Ultimate construction projects will match the look of I-4 Ultimate and will appear nearly seamless to motorists. But the improvements will move forward in smaller increments. In other words, construction will focus on a few miles at a time, rather than 20 or more miles at once.
Wekiva Parkway (Section 8) is the final part of the beltway system around Central Florida managed by FDOT and the Central Florida Expressway Authority. This section will connect to I-4 in Seminole County will complete the loop around Orlando and surrounding communities, improving safety, mobility and connectivity in the region.
These projects can be viewed in detail by going to the corresponding websites for I-4 Ultimate, I-4 Beyond the Ultimate, and Wekiva Parkway. The websites feature maps, artist renderings and more about construction activities and schedules.
The Science Behind Sound Barrier Walls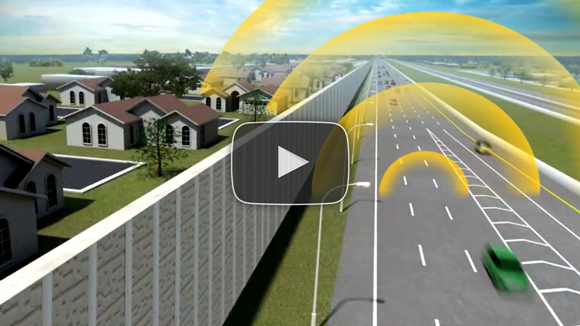 I-4 Beyond the Ultimate may include construction of sound barriers to help reduce sound between the interstate and adjacent neighborhoods. Many factors determine sound barrier locations. The Florida Department of Transportation (FDOT) has conducted multiple noise studies for the 40 miles of design segments in I-4 Beyond the Ultimate. Based upon the completed noise studies, construction of sound barriers will be considered for residential communities and business districts adjacent to I-4. Watch the video to learn more about how FDOT studies noise from the interstate.