| | Drone Footage Shows Dramatic Daryl Carter Parkway Interchange Progress |
| --- | --- |
| | Stepping Safely in a Construction Zone |
| | I-4 Express Recognized as Biggest Innovation for Award-Winning I-4 Ultimate |
| | Test Your Eye for Detail with Our Auxiliary Lanes Word Search |
Drone Footage Shows Dramatic Daryl Carter Parkway Interchange Progress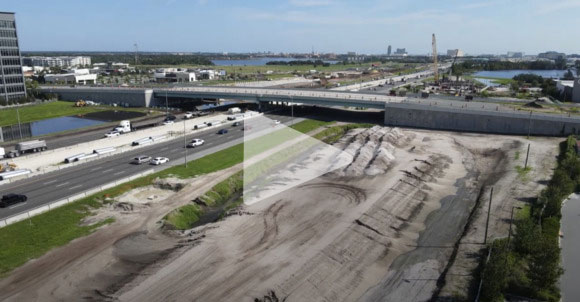 Click on image above to view video.
The Florida Department of Transportation's (FDOT's) progress on the improvements at Daryl Carter Parkway continues along Interstate 4 (I-4) as illustrated in this recent drone footage. The footage shows the stages of the project's three ramps that will connect the upcoming Daryl Carter Parkway diverging diamond interchange (DDI) to I-4. A fourth ramp, which will allow motorists to enter westbound I-4, is coming as part of a future project.
At the beginning of the video, the cleared area shown is between eastbound I-4 and Vineland Pointe, where material is being gathered to create the foundation for mechanically stabilized earth (MSE) retaining walls for the coming eastbound I-4 exit ramp. The second shot shows a set of cranes placing support pillars and pylons, which will stabilize the eastbound I-4 entrance ramp between eastbound I-4 and Vineland Pointe. Finally, the video shows the placement of MSE walls on both sides of the westbound I-4 exit ramp along westbound I-4 and the leveling of the foundation prior to paving.
To learn more about how FDOT is transforming the Daryl Carter Parkway overpass into a new DDI, visit the project page on the I-4 Beyond the Ultimate website.
Stepping Safely in a Construction Zone
Each October, the Florida Department of Transportation (FDOT) recognizes National Pedestrian Safety Month. The goal is to remind drivers, bicyclists, and pedestrians that safety is a shared responsibility.
Pedestrian safety in our I-4 Beyond the Ultimate construction zones is crucial due to the increased risks posed by heavy machinery, uneven surfaces, and changing traffic patterns. Here are some important tips for pedestrians to stay safe within construction zones:
Observe signs and warnings: Pay close attention to all signage and warning devices indicating the presence of a construction zone. These may include signs indicating reduced speed limits, detours, or pedestrian crossing areas.
Follow designated walkways: If there are designated walkways or pedestrian paths, use them. These paths are designed to keep pedestrians safe from construction equipment and moving vehicles.
Stay visible: Wear bright or reflective clothing when possible, especially in low-light conditions, to ensure that drivers and equipment operators can see you clearly.
Stay alert: Put away distractions such as headphones and smartphones. Keep your focus on your surroundings to be aware of any potential hazards.
Make eye contact: When crossing the street, try to make eye contact with drivers to ensure they see you before proceeding.
Avoid restricted areas: Stay out of areas marked as restricted or off limits to pedestrians. These areas are usually designated for construction workers and can be dangerous for pedestrians.
Cross at designated crosswalks: If you need to cross the road within a construction zone, use designated crosswalks and follow the guidance of traffic control personnel, if present.
Be cautious of changing conditions: Construction zones can have uneven surfaces, debris, and unexpected changes. Watch your step and be prepared for variations in the walking surface.
Watch for moving equipment: Construction vehicles and equipment can move unexpectedly. Always be aware of your surroundings and keep a safe distance from these vehicles.
Stay patient: Construction zones might cause delays, so plan your route accordingly and give yourself extra time to reach your destination without rushing.
Be prepared for noise: Construction zones can be noisy due to equipment and machinery. Be prepared for loud sounds and use extra caution.
Educate children: If you are with children, explain the importance of staying safe in construction zones and holding hands near traffic.
Remember, the key to pedestrian safety in construction zones is being vigilant, following the rules and guidelines, and staying alert to your surroundings at all times.
For more pedestrian safety information, check out the links below.
I-4 Express Recognized as Biggest Innovation for Award-Winning I-4 Ultimate
The Florida Department of Transportation's (FDOT) I-4 Ultimate project was recently honored with a top award in the 2023 America's Transportation Awards competition for the Southern Association of State Highway and Transportation Officials (SASHTO) Region.
The I-4 Ultimate project was honored with the title of Best in Operations Excellence, Large category – a category that highlights the efforts of large-scale projects in the region that cost more than $200 million in scope. I-4 Express, which will be extended as part of the I-4 Beyond the Ultimate program, was a big reason for the award. As America's Transportation Awards noted on the organization's website:
"With this major reconstruction, the biggest innovation was the I-4 Express, which consists of two tolled managed lanes in each direction to improve travel time reliability."
I-4 Express is currently being extended as part of the Interstate 4 (I-4) and Sand Lake Road (State Road (S.R.) 482) interchange construction project. Two westbound, barrier-separated, express lanes are being built from west of Sand Lake Road to connect to the existing express lanes near Kirkman Road (S.R. 435). These lanes will transition to a single, buffer-separated express lane in the westbound direction from west of Sand Lake Road and tie in just west of Central Florida Parkway. This express lane will be constructed in three separate projects, with the finished lane extending from west of Sand Lake Road to west of State Road 536.
The other projects building sections of the single express lane include the ongoing I-4 and Daryl Carter Parkway interchange project and work that will begin soon at I-4 and Apopka-Vineland Road (S.R. 535).
America's Transportation Awards finalists comprise the highest scoring projects from each region of the country from a list of 81 nominees. As a top contender, the I-4 Beyond the Ultimate project will soon compete for two 2023 America's Transportation Awards national prizes.
The American Association of State Highway and Transportation Officials (AASHTO) will unveil the grand prize recipient and the people's choice winner at its annual meeting held in November in Indianapolis. Both the grand prize and the people's choice winners will receive $10,000 towards their preferred scholarship or charity.
Test Your Eye for Detail with Our Auxiliary Lanes Word Search
The Florida Department of Transportation (FDOT) has recently added additional capacity to Interstate 4 (I-4) in Osceola County. Construction projects, which began in November 2021, have added new eastbound and westbound I-4 auxiliary lanes, one in each direction, between the ramps of State Road (S.R.) 429 and County Road (C.R.) 532, as well as an auxiliary lane on northbound S.R. 429 between I-4 and Sinclair Road. The auxiliary lane on eastbound I-4 opened spring 2023, while both the auxiliary lane on westbound I-4 and the auxiliary lane on S.R. 429 opened summer 2023.
An auxiliary lane is an extra lane connecting the entrance and exit ramps of two consecutive interchanges. The additional lane allows drivers wanting to merge onto the interstate a longer distance to do so and helps reduce bottlenecks caused by drivers attempting to enter or exit the interstate.
Learn more about auxiliary lanes by finding all the key words in our interactive word search! Share the puzzle with your friends and challenge them to beat your score!