| | The Diverging Diamond Interchange Project at ChampionsGate is Now Completed |
| --- | --- |
| | Governor DeSantis Announces Plan Aimed at Expediting I-4 Projects |
| | FDOT Public Meeting Previews Improvements at I-4 and S.R. 535 Interchange |
| | Employee Spotlight: Nicole Colón, Assistant Project Administrator/Contract Support Specialist |
| | Pile Driving Begins at Daryl Carter Parkway Improvement Project |
| | Video: Upcoming Improvements at Interstate 4 and U.S. 17-92 |
| | QUIZ: Hit-and-Run Awareness Month |
The Diverging Diamond Interchange Project at ChampionsGate is Now Completed
After years of planning and construction work, the diverging diamond interchange (DDI) at Interstate 4 (I-4) and County Road (C.R.) 532 has been completed. This is the first interchange of its kind in the Orlando area.
Osceola County Commissioner Peggy Choudhry, FDOT District Five Secretary John E. Tyler, P.E., and FDOT District Five Safety Administrator Loreen Bobo, P.E. presided over a special ribbon-cutting ceremony on February 13 to commemorate the project's completion. Guests in attendance were invited to take a tour of the new pedestrian and bike lanes along C.R. 532, which gave the interchange dedicated walking and cycling routes for the first time.
"As we celebrate today the completion of this interchange, we're excited with what's been accomplished, but we're also looking forward to the next improvements we can bring with the help of our great local partners in Osceola County," Tyler said.
The innovative project was designed to improve safety and mobility in the ChampionsGate area. In addition to the new DDI, improvements include widening the exit and entrance ramps to I-4, eliminating the left turn from southbound Goodman Road to C.R. 532, adding a wrong way vehicle detection system (WWVDS), and repaving throughout the area.
In the new DDI, motorists approaching the interchange on C.R. 532 switch to the left side of the road at a traffic signal. After passing under the interstate, they return to the right side at another traffic signal.
A DDI improves safety and mobility in several ways. First, it eliminates the need for left turns across oncoming traffic. Compared to a conventional interchange, a DDI has fewer conflict points, or places where vehicles cross paths, reducing the potential for collisions. Furthermore, it reduces the number of traffic signal phases, allowing more cars to travel through the interchange.
More DDIs are coming soon to improve the efficiency of other I-4 interchanges, including the ongoing Daryl Carter Parkway project and the upcoming improvements at Sand Lake Road.
For more information on DDIs, visit i4beyond.com/DDI.
Governor DeSantis Announces Plan Aimed at Expediting I-4 Projects
On Monday, January 30, Florida Governor Ron DeSantis announced special proposed funding that will expedite several congestion relief projects across Florida. The announcement took place at a press conference in Polk County at the SunTrax facility, a testing site for autonomous and transit vehicles. The goal of the proposed funding is to ease congestion while providing the necessary expansion to keep pace with Florida's rapid growth.
The initiative, titled "Moving Florida Forward," aims to bring improvements to Interstate 4 (I-4), I-275, and I-75 over the next four years. For the I-4 Beyond the Ultimate program, proposed funding totals approximately $2 billion. The proposed funding would kick start major I-4 improvements to the I-4 corridor in Osceola County. The Florida Department of Transportation (FDOT) plans to reconstruct I-4 to accommodate three general use lanes, auxiliary lanes, and two express lanes lanes in the eastbound and westbound directions from west of County Road (C.R.) 532 / ChampionsGate to east of C.R. 522 / Osceola Parkway. Reconstruction of existing interchanges is also part of this work.
Additionally, the proposed funding would reconstruct I-4 to accommodate three general use lanes, auxiliary lanes, and two express lanes in the eastbound and westbound directions from west of U.S. 27 to west of County Road (C.R.) 532 / ChampionsGate. A third project in the Osceola County area was also proposed with the "Moving Florida Forward" initiative. A Florida's Turnpike project, Poinciana Parkway Extension Connector, proposes to extend about 4 miles from Osceola-Polk County Line Road/C.R. 532 to north of the I-4 at State Road 429 interchange in Osceola and Polk Counties.
The Florida Legislature will need to approve the program. If approved, public meetings for proposed I-4 Beyond the Ultimate improvements in the Osceola County corridor would be scheduled as soon as summer 2023. Statewide, the plan fast tracks approximately 20 crucial projects that would have ordinarily taken up to 20 years to complete.
Learn more about the Moving Florida Forward Initiative at fdot.gov/movingfloridaforward.
FDOT Public Meeting Previews Improvements at I-4 and S.R. 535 Interchange
Florida residents attended the Florida Department of Transportation's (FDOT's) hybrid public meeting to learn about upcoming improvements in Orange County at the interchange of Interstate 4 (I-4) and Apopka-Vineland Road (State Road (S.R.) 535). Some attendees visited the open house in person on February 8 at the Floridays Resort Orlando, while others attended virtually through GoToWebinar.
The purpose of this project is to partially reconstruct the interchange to enhance safety and improve access to and from westbound I-4 and to add capacity to I-4. The public meeting was held to present information and receive community feedback.
The meeting provided area residents, pedestrians, cyclists, and motorists with details about the proposed improvements as well as a potential timeline for construction. Design engineers answered questions and explained the proposed improvements with the help of design plans, large display maps, video, and informational handouts. The public also had the opportunity to submit questions and comments about the project, which will be part of the public record.
For more information about these improvements or to review materials from the public meeting, visit the meeting web page or CFLRoads.com.
Employee Spotlight: Nicole Colón, Assistant Project Administrator/Contract Support Specialist
Nicole Colón is an assistant project administrator/contract support specialist on the ongoing Interstate 4 (I-4) capacity construction projects in Osceola County. Colón's job as part of the construction engineering and inspection team involves her being responsible for the project's office-related duties and paperwork, helping the project to run smoothly.
"I handle most of the money, the estimates, the finances. I write the work orders and the supplemental agreements," Colón said of her day-to-day job duties. "I track all of the materials and I try to help our inspectors in any way they need."
The current I-4 capacity construction projects in Osceola County include Project No. 444329-1, which is adding new eastbound and westbound I-4 auxiliary lanes — one in each direction — between the ramps of State Road (S.R.) 429 and County Road (C.R.) 532, as well as an auxiliary lane on northbound S.R. 429 between I-4 and Sinclair Road. The project includes milling and resurfacing S.R. 429 between I-4 and Sinclair Road. Project No. 443958-1 consists of milling and resurfacing eastbound and westbound I-4 from the Polk/Osceola County line to west of S.R. 417.
"I really like the fact that I don't have to be in one place for a long length of time. I love the fact that we come in and we are on a project for a couple of years," Colón said. "We give the public a product and then we can move on to our next one, and it's a whole new set of learning opportunities."
Colón knows the importance of having in-depth knowledge of all the project's components.
"I don't stop learning," said Colón. "I am constantly asking questions."
Colón took the initiative to become certified in multiple construction training and qualification program (CTQP) certifications, including asphalt paving, earthwork construction inspection, final estimates, and quality control management.
"I feel like it helps me do my job better and gives a better understanding of what I need from the inspectors, and what I need from the QC side of everything," Colón said of her CTQP certifications.
Colón acquired expert knowledge during her 15 years in the industry. She was always interested in the trade, majoring in civil engineering at the University of Central Florida prior to joining the U.S. Navy. As a Florida native growing up in Winter Park, Colón moved back to Central Florida after her time in the Navy to begin her career. Prior to her current role, Colón worked as a public information officer and was the co-chairperson for Central Florida Construction Career Days, a nonprofit organization introducing high school students to the roadway construction industry.
Outside of work, Colón stays busy attending her youngest daughter's soccer games and horseback-riding activities. When she isn't busy driving her youngest child to her endless activities, Colón enjoys traveling and photography. With her youngest now old enough to travel more, Colón said, "I love going out there and just wandering and taking pictures and finding new places."
The current I-4 capacity construction projects in Osceola County broke ground in November 2021 and are anticipated to be completed in early 2024.
Pile Driving Begins at Daryl Carter Parkway Improvement Project
Every major structure built as part of the I-4 Beyond the Ultimate project requires a solid foundation to ensure it will last for years to come. A key part of these foundations is underground pillars made of concrete or steel, otherwise known as "piles." Piles often need to be placed more than 100 feet underground to provide safe, stable foundations for bridges and overpasses.
Pile driving is typically done in two ways. The first involves "vibrating" the piles into the ground. In the second method, if the soil is soft and loose, piles can be shaken into the ground, rather than driven, using a hydraulic or diesel-powered hammer. Vibratory pile is also effective at installing sheet pile, which supports wall structures.
However, even when using the vibratory method, it may be necessary to use a pile-driving hammer to set the piles in place at the end of the process. The impact of a hammer to the top of the pile drives the steel or concrete pile through dense underground layers to the required design elevation.
If you reside near pile driving activity you may hear the pile-driving hammer and sometimes notice ground vibration. The Florida Department of Transportation (FDOT) Standard Specification 108 details the contractor's responsibility to monitor vibration and settlement. If excessive vibration is encountered, countermeasures will be implemented.
Most pile driving takes place during the day to minimize impact to nearby residents. To mitigate disturbances while still ensuring accuracy and stability, inspectors utilize tools such as vibration sensors to carefully monitor levels of vibration, along with the number of blows it takes to reach a certain level. Vibration levels can be affected by the type of soil, the building structure, and a person's location. Noise levels may fluctuate due to proximity to the pile driving and the type of structure the person is inside.
Recently, pile driving started in mid-January near the improvement project that is transforming the Daryl Carter Parkway overpass into a Diverging Diamond Interchange (DDI) as part of the I-4 Beyond the Ultimate project. Nearby residents and businesses were informed of the pile driving in advance to prepare them for the process.
If you have any questions or concerns regarding pile driving activity, please contact us.
Video: Upcoming Improvements at Interstate 4 and U.S. 17-92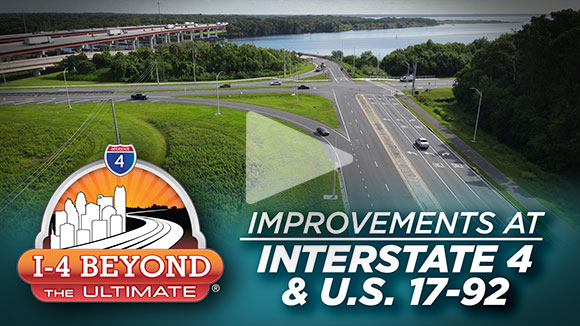 Click on image above to view video.
The Florida Department of Transportation (FDOT) will soon begin work on safety and operational improvements at the Interstate 4 (I-4) and U.S. 17-92 interchange in Seminole County. This video details the work that will be part of the project.
QUIZ: Hit-and-Run Awareness Month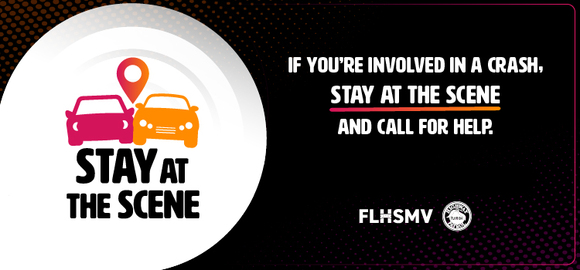 Take our quiz to test your knowledge of Hit-and-Run Awareness Month.
February is Hit-and-Run Awareness Month. The Florida Department of Highway Safety and Motor Vehicles (FLHSMV) urges drivers involved in a crash to stay at the scene.
Nearly 25 percent of all Florida crashes involve a hit-and-run. The Stay at the Scene campaign aims to bring down the number of hit-and-run crashes by informing drivers on what to do if they're involved in a crash and the consequences they face if they choose to leave the scene.
Take this quiz to test your knowledge of Hit-and-Run Awareness Month.