FDOT Public Meeting Previews Improvements to I-4 Interchanges in Seminole County
Nearly 100 Central Florida residents attended the Florida Department of Transportation's (FDOT's) hybrid public meeting to learn about upcoming improvements at Interstate 4 (I-4) interchanges in Seminole County. Many attendees visited the open house in person on August 30 at the Lake Mary Events Center, while dozens of others attended virtually through GoToWebinar.
The purpose of these projects is to provide operational improvements to the intersection of County Road (C.R.) 46A (H.E. Thomas Jr. Parkway) and Rinehart Road near the I-4 and C.R. 46A interchange, and to implement safety enhancements at the I-4 and U.S. 17-92 interchange. The public meeting was held to present information and receive community feedback on the upcoming projects, which include:
The meeting provided area residents, pedestrians, cyclists, and motorists with details about the proposed improvement projects as well as a potential timeline for construction. Design engineers answered questions and explained the proposed improvements with the help of design plans, large display maps, video, and informational handouts. The public also had the opportunity to submit questions and comments about the projects which will be part of the public record.
For more information about these projects or to review materials from the public meeting, visit the meeting web page or CFLRoads.com.
Safety Features of the Diverging Diamond Interchange at I-4 and C.R. 532
A Diverging Diamond Interchange (DDI), sometimes known as a double crossover diamond, is an innovative interchange configuration with many safety benefits. DDIs reduce conflict points — places where traffic either merges or intersects —from 18 to eight and reduce the severity of crashes when compared to a conventional interchange.
A new DDI has recently opened at I-4 and County Road (C.R.) 532 in Osceola County and, while it brings with it all the safety benefits of a traditional DDI, additional technology features are being added to make the interchange even safer. These include:
Wrong Way Vehicle Detection System (WWVDS) – This technology produces an alarm when a vehicle is detected traveling in the wrong direction (see above photo). The detection system monitors all lanes, including shoulders.
Closed-Circuit Television (CCTV) cameras – A series of cameras will provide constant video coverage of the intersection. These maneuverable cameras will provide traffic administrators with real-time video to identify incidents and ensure traffic is flowing smoothly.
Advanced technology signalization with pedestrian and vehicle detection systems.
The Florida Department of Transportation is also implementing other safety features to enhance visibility and reduce confusion for drivers both approaching and already within the intersection.
Thermoplastic pavement markings with glass beads to increase visibility.
Wrong way arrows with reflective pavement markers (RPMs).
Americans with Disabilities Act (ADA) compliant ramps with detectable warning surfaces.
Streetlights.
Guardrails.
High-visibility crosswalks.
Wrong-way signage.
Signalized pedestrian crossings.
To further reduce severity of crashes within the interchange and allow motorists more time to smoothly navigate through the horizontal layout of the interchange, the speed limit was lowered from 35 mph to 25 mph.
For more information on DDIs, visit i4beyond.com/DDI.
Last Stretch of Wekiva Parkway Approaches Completion in 2023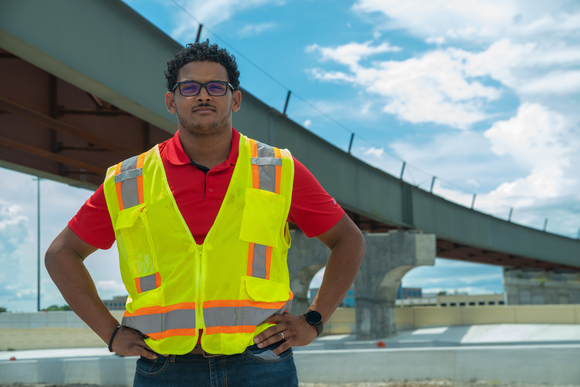 Senior Project Engineer Wade Morris at the site where S.R. 429 and S.R. 417 will soon meet, completing the beltway around Orlando.
Years of planning, design, and construction will culminate in the completion of Orlando's beltway next year. The Wekiva Parkway — the State Road (S. R.) 429 extension through Orange, Lake, and Seminole counties — recently celebrated a significant milestone with the opening of a new section along the S.R. 46 corridor from Longwood Markham Road to near Orange Boulevard. Now, less than 2 miles of expressway is all that remains to connect the Wekiva Parkway to Interstate 4 (I-4) and S.R. 417 near Seminole Towne Center in Sanford.
Senior Project Engineer Wade Morris, who works as a consultant to the Florida Department of Transportation (FDOT) from Metric Engineering, says construction teams are making excellent progress on the final portion despite supply chain issues and occasional severe weather.
"This is the largest construction project of my career," said Morris, who has worked on FDOT projects and elsewhere in the industry for 20 years, having also spent time in Chicago and the Carolinas. "It's tremendously exciting to be a part of something this big that improves regional transportation. I'm proud of everything we've accomplished so far with the project."
Morris said approximately 150 workers could be on the job any given day, completing this last portion of the beltway connection.
Drivers can currently enter the parkway from side streets connecting to S.R. 46, such as International Parkway/Terracina Drive, Henderson Lane, Orange Boulevard, and Center Road. The speed limit on the parkway is 70 mph but drops to 35 mph in some of the construction zones.
The Wekiva Parkway design features new roundabouts at the S.R. 46 intersections with Osprey Hammock Trail, Longwood Markham Road, Yankee Lake Road, Lake Markham Road, and Glade View Drive. It is estimated that incorporating roundabouts can help reduce traffic congestion at intersections by 30 to 50 percent.
Not only is the Wekiva Parkway making travel more efficient, but it is also designed with aesthetics in mind. The parkway's design and landscaping were envisioned to enhance the natural landscape, with bridges, roadway barriers, gantries, and other structures utilizing materials selected to complement the surrounding environment.
"Protecting the Wekiva River Basin was one of the priorities for the project," said Lauren Pearson, FDOT District Five Regional Transportation Management Center (RTMC) manager. "For that reason, the number of traffic interchanges was limited to ensure the surrounding lands and wildlife were affected as little as possible."
A TOLL-BY-PLATE payment option helps ensure safety by eliminating the need for vehicles to slow or stop at a toll gantry. Drivers can also pay with SunPass, E-PASS, and other Florida-accepted toll transponders.
The Wekiva Parkway features more than a mile and a quarter of elevated roadway, creating spacious underpasses for animals to cross safely. There are also more than 10 miles of trails for bicycling and hiking.
You can find more information about Wekiva Parkway and construction updates at www.wekivaparkway.com/.
Restricted Crossing U-Turns Open at Apopka-Vineland Road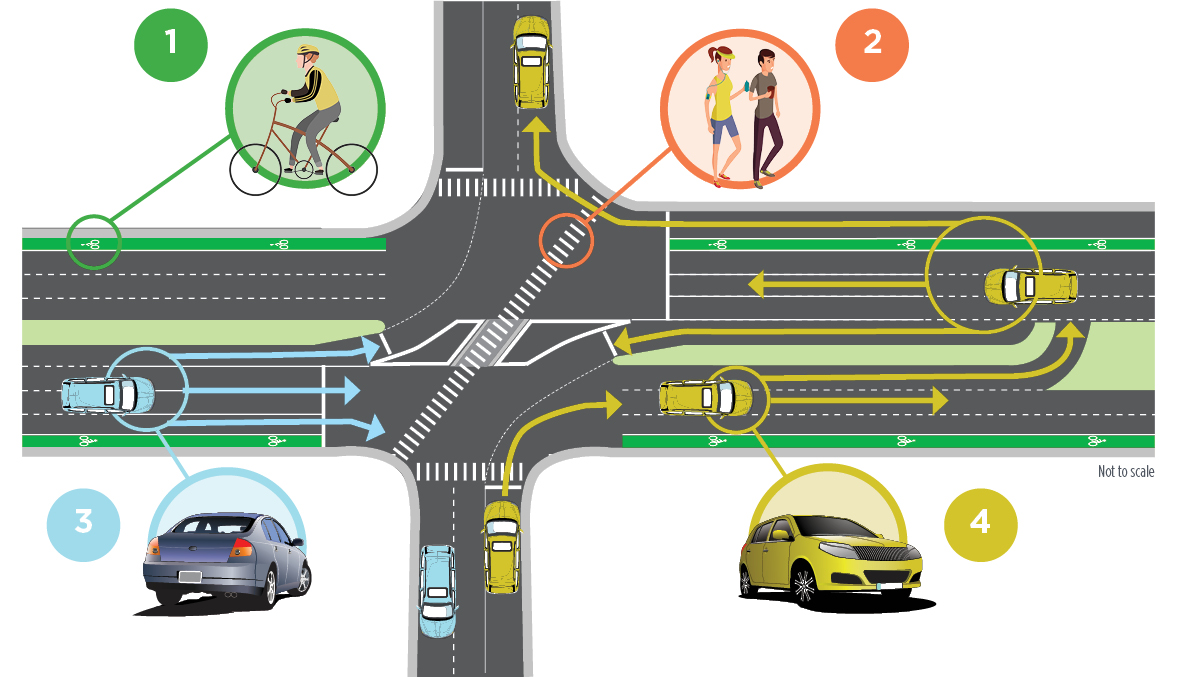 For more information on the RCUTs on S.R. 535, click here.
| | |
| --- | --- |
| 1 | Cyclists can use the bike lanes or pedestrian walkways. |
| 2 | Pedestrians cross the main roadway diagonally, which keeps them out of the path of vehicles turning left onto side streets. |
| 3 | Vehicles on the main roadway can make right turns, left turns, or continue through the intersection. |
| 4 | Side street traffic turns right and motorists can continue straight or make a U-turn to travel in the opposite direction. |
Drivers headed toward Apopka-Vineland Road (State Road (S.R.) 535) can expect to see a new intersection design. The Florida Department of Transportation (FDOT) has constructed innovative intersection modifications known as restricted crossing U-turns (RCUTs) to promote safety and mobility.
The RCUTs have been implemented at Apopka-Vineland Road from south of International Drive to south of Hotel Plaza Boulevard in the following locations:
Vistana Drive.
Vistana Centre Drive/Blue Heron Beach Drive.
Meadow Creek Drive/Lake Vining Drive.
Chick-fil-A/Holiday Inn driveway.
Motorists wishing to turn left or continue straight across Apopka-Vineland Road from one of these side streets will first turn right and then make a U-turn at the next median opening. Traffic signals at the intersection are synchronized to create an efficient traffic flow to make the U-turns easier. According to the Federal Highway Administration, RCUTs can reduce travel time by 40 percent, while the intersection can accommodate 30 percent more vehicles.
When FDOT designs roadways, safety is a top priority. RCUTs improve safety by reducing the number of conflict points, or the number of ways vehicles can cross paths. This significantly reduces the potential for serious crashes.
The improvements on Apopka-Vineland Road also include enhancements for pedestrians and bicyclists. Pedestrians are now able to cross diagonally, which decreases the possibility of vehicle-pedestrian collisions. Bicyclists can use either the designated bicycle lanes or pedestrian walkways. Additional roadway improvements include upgraded signage and paving, new lighting, restriping to add 5-foot-wide bike lanes, and the addition of transit stop boarding areas/landing pads.
Mobility Week 2022 Coming in October
The Florida Department of Transportation (FDOT), along with its partner agencies, will be celebrating its seventh annual statewide Mobility Week October 21-28, 2022. This cooperative effort challenges Floridians to find new ways to travel around town, including riding public transit, biking, or walking. The goal is to promote awareness of safe, active, sustainable, and multimodal transportation choices.
Cities, counties, and transportation agencies will hold events and promotions throughout the week to encourage Floridians to try new transportation options. This is also an ideal time for agencies to highlight transportation achievements, implement new policies, or roll out new initiatives.
Want to get involved? You can join communities around the state and become a Mobility Week partner by:
Organizing an event during Mobility Week. These events can vary in nature, but should promote safe, multimodal transportation choices.
Taking a mobility action during and after Mobility Week. Promoting mobility does not have to be limited to just Mobility Week — actions can be taken at any time of the year.
To become a partner, email FDOT at Contact@MobilityWeekFL.com.
Anyone can participate in Mobility Week by attending an event and spreading the word with their neighbors, co-workers, and friends. Be on the lookout for events near you.
Additionally, a Love to Ride Florida Challenge will kick off at the start of Mobility Week and run through the end of November. The challenge encourages bicycle riders to pedal throughout the month to earn points and climb the leaderboard. Whether you participate as an individual, with your workplace, or as part of a club/group, this challenge is a great way to celebrate Mobility Week and make your effort to choose smart, safe, and efficient transportation modes. You can register now at lovetoride.net/florida.
Beyond the Ultimate Spotlight: Caitlin West
I-4 Express was constructed as part of the I-4 Ultimate project, a 21-mile reconstruction of Interstate 4 (I-4). Officially opened to the public on February 26, 2022, I-4 Express comprises two lanes in each direction that motorists can use to more reliably get to where they need to go.
The successful operation of I-4 Express requires the cooperation and hard work of many dedicated individuals, such as Caitlin West, a District Five I-4 Express supervisor. West has worked in transportation since 2016, first with the Traffic Management Center (TMC) for Florida's Turnpike before making the move to District Five.
"I used to be a 911 police dispatcher for City of Lake Mary," said West. "A friend let me know about an attractive office position with the Turnpike TMC. Although I miss dispatching, this is a fun job that brings something new every day."
As a District Five I-4 Express supervisor, West manages and oversees the I-4 Express operators and assists them with any events to ensure drivers are getting the best trips through I-4 Express. It's a lot of work and requires a sharp eye for detail, but West says every day she spends at the office is a joy because of the people she works with.
"I have the best co-workers, who manage to make any day fun and easy to handle, no matter how many events come up," said West.
Among the future projects West is excited to tackle, she said she's most looking forward to the future extension of I-4 Express, which will provide its own unique benefits and challenges.
Born and raised in Orlando, West graduated from Lyman High School, earned her associate degree from Seminole State College and is currently pursuing her bachelor's degree in psychology at the University of Central Florida. When she isn't working or studying, she can usually be found trying new things and spending time with loved ones.
"I make trips to Disney as often as possible," said West. "We enjoy collecting Disney pins and trying all the different foods at the Epcot festivals. My boyfriend and I like planning new adventures, activities, and experiences. I love crafting and creating art, taking my dog to the dog park, trying new foods, and finding new craft sour beers."