Diverging Diamond Interchange Traffic Pattern Opens at ChampionsGate
While improvements continue at the Interstate 4 (I-4) interchange at County Road (C.R.) 532 near ChampionsGate, the new diverging diamond interchange (DDI) traffic pattern opened to the public on July 9. Construction will continue at the interchange into fall of this year to add bicycle and pedestrian features, intelligent transportation system technology, signage, curbs, and landscaping. The roadway will also be milled and resurfaced.
In the new configuration, motorists approaching the interchange on C.R. 532 switch to the left side of the road at a traffic signal. After passing under the interstate, they return to the right side at another traffic signal.
DDIs are innovative interchanges designed to improve safety and mobility in the area. By moving traffic to the opposite side of the roadway, left turns across traffic are eliminated, reducing the number of conflict points in the interchange. Conflict points are locations in the interchange where vehicles' paths merge, diverge, or cross. DDIs reduce conflict points by more than half. In addition, DDIs have fewer signal phases due to easier left turns, which allows nearly twice the traffic to move through the interchange in the same amount of time.
Motorists should expect periodic nighttime closures at the interchange while work continues.
For more information, visit the project page at I4beyond.com.
Progress Continues on Osceola County Capacity Projects
As work continues on auxiliary lane projects at Interstate 4 (I-4) between the ramps of State Road (S.R.) 429 and County Road (C.R.) 532 near ChampionsGate, drivers in the area can start to see changes taking shape. New eastbound and westbound I-4 auxiliary lanes, one in each direction, are being constructed between the ramps of S.R. 429 and C.R. 532, as well as an auxiliary lane on northbound S.R. 429 between I-4 and Sinclair Road.
The westbound I-4 exit ramp and the eastbound entrance ramp at the C.R. 532 interchange will also be widened to two lanes to improve traffic flow and increase capacity. The project includes milling and resurfacing S.R. 429 between I-4 and Sinclair Road. In addition to the auxiliary lane construction, the Florida Department of Transportation (FDOT) will be milling and resurfacing eastbound and westbound I-4 from the Polk/Osceola County line to west of S.R. 417. The newly constructed auxiliary lanes are anticipated to increase capacity and improve traffic flow, while milling and resurfacing extends the life of the roadway.
With construction having begun in late November 2021, the project is starting to take shape, and recent photos show the improvement throughout the project. Let's examine some recent construction shots showing how the work has progressed in locations throughout the project area.
The photo at the top of this article shows development on the eastbound ramp from I-4 to S.R. 429. As shown in the picture, progress has been made on embankment widening of the ramp — a necessary step in adding the auxiliary lane.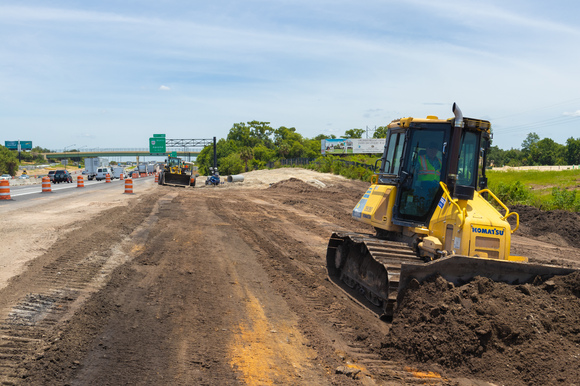 Construction crews have been milling and resurfacing eastbound I-4, before switching more of the focus to the westbound lanes in the coming weeks. The picture above shows the recent advancement of eastbound I-4 auxiliary lane construction. Part of the westbound construction is the widening of an existing box culvert, depicted in the picture below. The box culvert is a tunnel-like structure that allows for a flow of water between the wetland bodies located on either side of the interstate corridor.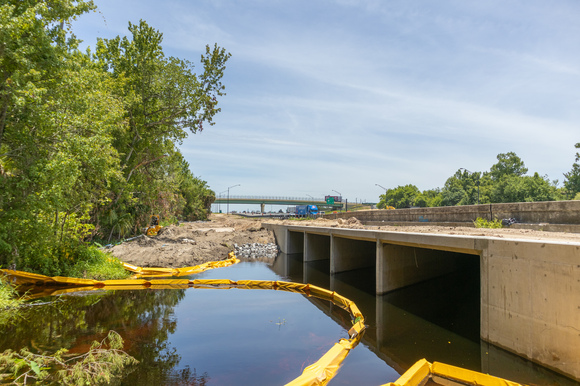 The projects are expected to reach completion in 2024. For more information on the progress of the auxiliary lanes construction projects, visit i4beyond.com or follow us on Twitter at @i4Ultimate.
FDOT Hosts Visitors from International Road Federation
The Florida Department of Transportation (FDOT) recently held a construction site visit with international engineers to assist in improving the road infrastructure of countries overseas. On June 21, FDOT welcomed engineers from the International Road Federation (IRF) to learn about Central Florida's latest innovative construction project, the diverging diamond interchange (DDI) at Interstate 4 (I-4) and County Road (C.R.) 532 near ChampionsGate.
FDOT and the IRF coordinated the site visit, inviting engineers Fouad Aljabri and Amer Alzahrani from Saudi Arabia and Mariwan Kallon from Sierra Leone to gain firsthand knowledge from engineers who worked on the DDI project. Dan Barbato, the senior project administrator for construction, engineering, and inspection on the ChampionsGate DDI project, served as facilitator as the IRF guests observed construction and asked questions about improvement projects in the U.S. with the goal of promoting safer and smarter transportation solutions worldwide.
The group discussed civil engineering best practices and the most effective methods for keeping the public informed of upcoming traffic pattern changes, detours, and road closures. Public information specialists who work regularly with FDOT were on hand to provide details on community outreach efforts on construction projects that keep businesses and residents up to date on construction activities that impact local traffic. FDOT and IRF representatives also discussed project maintenance and inspection practices after construction is complete.
FDOT is proud to partner with the IRF for opportunities to exchange ideas and methodologies with our colleagues from around the world to promote the development of safer and smarter travel.
QUIZ: Back to School Safety
With the new school year starting up in August, school buses and sidewalks full of children will soon be a common sight again on Florida's roadways. It's important to keep them in mind while driving by staying alert, keeping an eye out for school zones, and being extra careful around crosswalks and bike lanes.
School Bus Safety
Although it can be frustrating being stuck behind a school bus with its arm extended and lights flashing when you're in a hurry, it's important to remember when and where to stop for them.
All drivers moving in either direction on a two-way street must stop for a school bus displaying a stop signal and must remain stopped until the road is clear of children and the school bus stop arm is withdrawn.
All drivers moving in either direction on a highway divided by a paved median must stop for a school bus displaying a stop signal and must remain stopped until the road is clear of children and the school bus stop arm is withdrawn.
If there is a raised barrier such as a concrete divider or at least five feet of unpaved space separating the lanes of traffic, drivers moving in the opposite direction do not have to stop for the bus, although they should slow down and watch for students.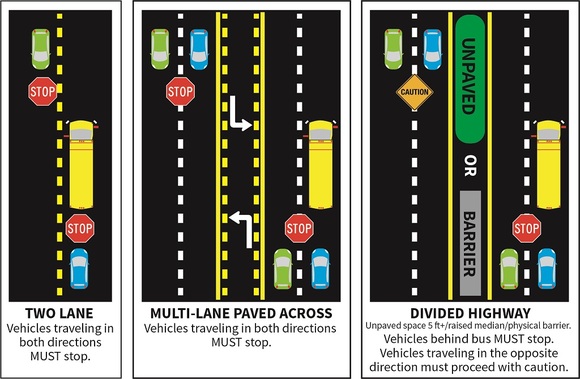 Walking or Biking to School
A great way to get in some exercise first thing in the morning is to walk or bike to school, especially with some friends. Here are some tips to pass on to your children for them to keep in mind to make sure they get to and from school as safely as possible every day.
Stop at every curb and look LEFT-RIGHT-LEFT before crossing a street, and only cross at designated crosswalks and pedestrian signals.
Be familiar with your surroundings and never accept rides from strangers.
Always obey the directions of crossing guards and law enforcement.
Wear bright colors and reflective gear during dawn, dusk, and at night.
If biking, always follow the rules of the road.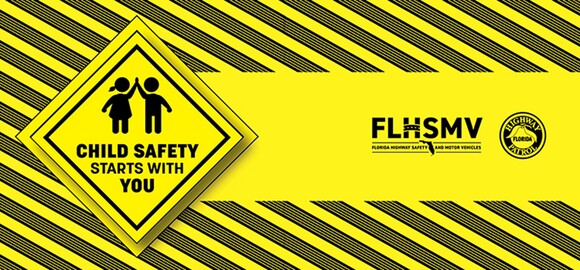 It's everyone's responsibility to make sure Florida's children get to and from school safely, no matter how they're traveling.
For more information on back-to-school safety, visit flhsmv.gov/safety-center/child-safety/.