Road Construction Begins on I-4 Capacity Projects in Osceola County
Construction began in November on new Interstate 4 (I-4) capacity projects in Osceola County. These projects will add an eastbound and a westbound I-4 auxiliary lane between the ramps of State Road (S.R.) 429 and County Road (C.R.) 532. In addition, a new auxiliary lane is being constructed on northbound S.R. 429 between I-4 and Sinclair Road. An auxiliary lane is an additional general use lane between interchanges that adds capacity to areas of the interstate susceptible to congestion.
The project also includes milling and resurfacing along eastbound and westbound I-4 from the Polk/Osceola County line to west of S.R. 417, as well as milling and resurfacing along S.R. 429 between I-4 and Sinclair Road. This work will create a smoother roadway for motorists and extend the life of the pavement.
To keep the ride on I-4 smooth, periodic milling and resurfacing of the asphalt is important to make repairs that can lengthen the lifespan of the road. Resurfacing is necessary when the asphalt surface has reached the end of its service life or if other methods of restoration cannot repair the roadway. A new asphalt surface will improve driving conditions as well as the aesthetics of the road.
Careful planning is required to complete hundreds of miles of lane resurfacing statewide. The Florida Department of Transportation (FDOT) conducts annual surveys of the entire state highway system and the data collected is used to assess the condition and performance of each roadway and predict future rehabilitation needs.
For more information on the planned improvements on I-4 in Osceola County, visit I4Beyond.com/ChampionsGate.
Improvements Underway at I-4 and C.R. 532 Interchange at ChampionsGate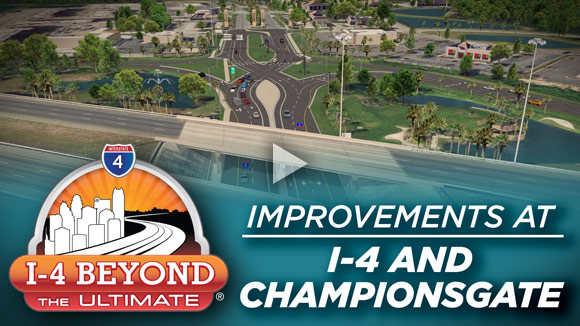 Click on image above to view video.
Construction is ongoing on the reconfiguration of the Interstate 4 (I-4) and County Road (C.R.) 532 interchange to a diverging diamond interchange. For more information on the planned improvements on I-4 near ChampionsGate, visit the project website at I4Beyond.com/ChampionsGate. Watch this month's feature video to learn more about construction of the project.
Mobility Week Highlights Transportation Options in Central Florida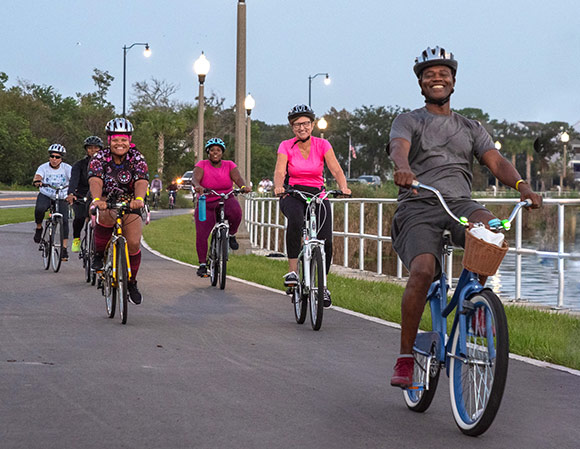 Enthusiastic bicyclists hit the Sanford Riverwalk Friday, October 29, for Sanford's Bike to Work Day, one of many events held during Mobility Week 2021. The event was organized by reThink Your Commute (a program of the Florida Department of Transportation) and the Florida Department of Health.
Roadway projects such as I-4 Beyond the Ultimate are improving safety and mobility through Central Florida, but area residents can also choose from a range of smart transportation alternatives.
Mobility Week, which was observed this year from October 29 to November 5, is an annual effort by the Florida Department of Transportation (FDOT) and its partners to promote awareness of smart, efficient, and safe multimodal transportation choices. During this year's Mobility Week, cities, counties, and transportation agencies across the state highlighted those choices with a series of events and initiatives.
Since the statewide introduction of Mobility Week three years ago, FDOT and its partners have hosted hundreds of events across 67 counties to share information on travel choices available to the public including transit, walking, bicycling, and ridesharing.
Crash Responder Safety Week
The Federal Highway Administration's Crash Responder Safety Week was observed from November 8 to November 14. The nationwide initiative recognizes all traffic incident management response communities for their contributions and sacrifices while educating motorists on how to do their part to ensure a safe environment for responders at roadway incident scenes.
So far this year, 53 emergency responders have lost their lives in the line of duty after being struck by a vehicle while working in or alongside the roadway. Every time emergency responders stop to investigate a crash, assist motorists, or conduct a traffic stop, they are putting their own lives at risk. To address the heightened danger associated with these roadside stops, every state has enacted Move Over laws, which require motorists to change lanes and/or slow down when approaching stopped emergency vehicles.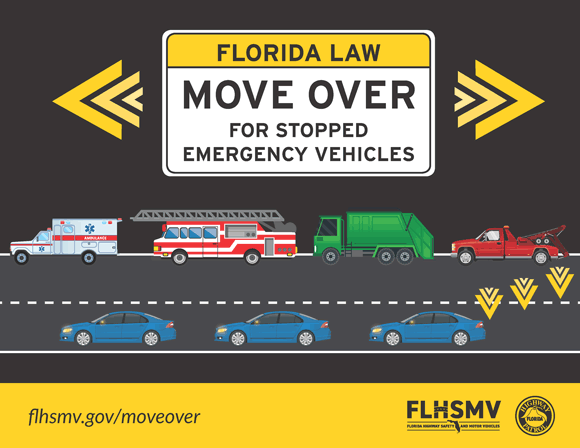 Florida's Move Over law requires motorists to move over a lane – only when safe to do so – for stopped law enforcement, emergency, sanitation, utility service vehicles, and tow trucks or wreckers. If you can't move over – or when on a two-lane road – slow to a speed that is 20 mph less than the posted speed limit.
Not everyone knows about Florida's Move Over law, so it's important to spread the message. Moving over and giving space to emergency personnel isn't just a courtesy – it's the law and it can save a life. These are preventable tragedies.
For more information, please visit www.flhsmv.gov/safety-center/driving-safety/move-over/.
Quiz: Safe Holiday Travel
During the holiday season, Florida's roads can be some of the busiest in the country. In 2019, the Florida Department of Highway Safety and Motor Vehicles (FLHSMV) reported 10,183 total crashes during the Thanksgiving holiday alone, with 98 of those crashes resulting in fatalities. Driving defensively, planning ahead, and obeying the law are great ways to improve your chances of arriving alive to enjoy the holidays with loved ones.
Take this quiz to test your knowledge on traveling safely during the holidays.