Child Safety Awareness Month
The Florida Department of Highway Safety and Motor Vehicles (FLHSMV) recognizes August as Child Safety Awareness Month. Whether by bike, bus, or walking, Florida children can be seen all over the state traveling to and from school as classes start up again. It's important to keep them in mind while driving by staying alert, keeping an eye out for school zones, stopping properly for school buses, and being extra careful around crosswalks and bike lanes.
School Bus Safety
Although it can be frustrating being stuck behind a school bus with its arm extended and lights flashing when you're in a hurry, it's important to remember when and where to stop for them.
All drivers moving in either direction on a two-way street MUST stop for a school bus displaying a stop signal and must remain stopped until the road is clear of children AND the school bus stop arm is withdrawn.
All drivers moving in either direction on a highway divided by a paved median MUST stop for a school bus displaying a stop signal and must remain stopped until the road is clear of children AND the school bus stop arm is withdrawn.
However, if there is a raised barrier such as a concrete divider or at least 5 feet of unpaved space separating the lanes of traffic, drivers moving in the opposite direction do not have to stop for the bus, although they SHOULD slow down and watch for students.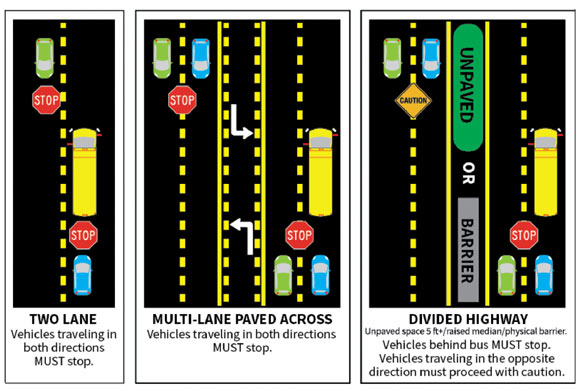 Put It Down
Pay extra attention in school zones and always put down your phone. Florida's Wireless Communications While Driving Law prohibits the use of a wireless communications device in a handheld manner while driving in a designated school crossing, school zone, or active work zone area. Violators commit a noncriminal traffic infraction, punishable as a moving violation, that includes a base $60 fine, not including court costs or other fees, and will have 3 points assessed against their driver license. Remember, you can be stopped and fined for simply having a phone in your hand.
Car Seats
In 2018, there were 3,177 school bus crashes and 130,055 children ages 0 to 17 involved in a crash in Florida, resulting in 1,438 serious bodily injuries and 155 fatalities.
One of the most important things you can do to ensure your children are protected in the event of a crash is properly restraining them. These are the four types of car seats currently available for children.

Rear-Facing Car Seat
The safest option, designed for newborns and small babies
Children ages 0 through 3 must be in child restraint devices of a separate carrier or a vehicle manufacturer's integrated child seat
Leg crowding is expected and does not harm the child

Front-Facing Car Seat
Florida law requires children age 5 and under to be secured properly in a crash-tested, federally approved child restraint device
Install safety seats tightly in the vehicle with less than an inch of movement
Always read the car seat's instruction manual AND the vehicle's belt manual

Booster Seats
Often needed until a child is around 4 feet 9 inches tall
Reduces injury by up to 45 percent compared to using a safety belt alone
Lap and shoulder belts are required
Use booster seats until the safety belt fits properly

Seat Belts
Develop a habit with your children to buckle up every time in every car
Don't let your child tuck the shoulder belt under an arm or behind them
Children should always ride in the backseat until at least the age of 12
To fit properly, the lap belt must lie snugly across the upper thighs
If you need assistance with installing a car seat or aren't sure if you did it correctly, contact your local police department or fire station and make an appointment to have it installed or inspected. Never buy a used or defective car seat.
For more information on Child Safety Awareness Month, visit https://www.flhsmv.gov/2019/08/01/flhsmv-recognizes-august-as-child-safety-awareness-month/.
Now that you have reviewed safety information from Child Safety Awareness Month, test your knowledge by taking our online quiz.