E.E. Williamson Road Bridge Completed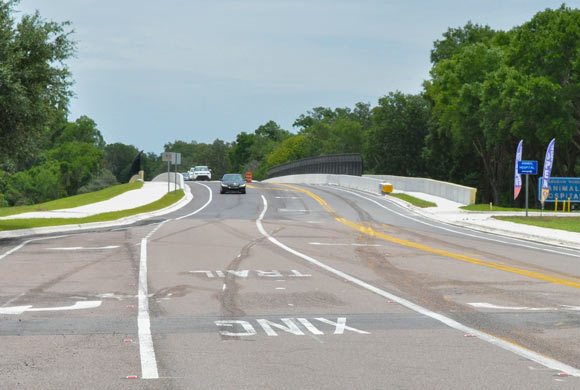 Work is complete on the new E.E. Williamson Road overpass.
The reconstruction of the E.E. Williamson Road bridge over Interstate 4 (I-4) has been completed.
Work began in September 2019 to lengthen and widen the E.E. Williamson Road overpass to make room for the wider I-4 footprint below.
Crews working on the bridge have also been constructing a new auxiliary lane on eastbound I-4 from the end of the I-4 Ultimate project to Lake Mary Boulevard, as well as milling and resurfacing the I-4 mainline in both directions beneath the overpass.
The new E.E. Williamson Road overpass now includes:
12-foot-wide traffic lanes in both directions;
6-foot-wide bicycle lanes on the outside of both traffic lanes;
A 6-foot-wide sidewalk on the south side;
A 10-foot-wide trail on the north side, which will improve access to the Seminole Wekiva Trail; and
A raised median separating the eastbound and westbound travel lanes.
Construction continues on the eastbound I-4 auxiliary lane and milling and resurfacing of both directions of I-4 under E.E. Williamson Road.
Motorists should expect periodic, nighttime lane closures on I-4 during construction.
Sign up for advance construction alerts by entering your contact information at I4Beyond.com/alerts. Motorists can customize their alerts to receive weekly, daily, or hourly notifications. Users also can filter the alerts to show only the construction activity that will impact their area.
How Diverging Diamond Interchanges Reduce Traffic Light Phases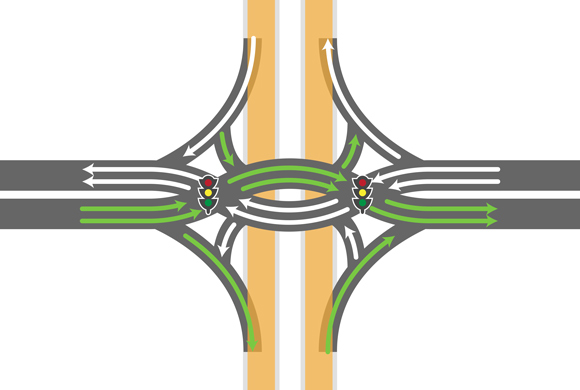 The diverging diamond interchange (DDI) eliminates left-turn phases at traffic signals.
With multiple diverging diamond interchanges (DDIs) coming to Central Florida as part of I-4 Beyond the Ultimate, it's important to look at the innovations they'll bring to busy roadways along Interstate 4 (I-4). A DDI improves safety by eliminating left turns across traffic and increases capacity by allowing more motorists through the interchange as the traffic light cycle is reduced from four phases to two.
"There are no left-turn phases (onto the highway) from the road in a DDI because left turns occur while driving on the left side, making left turns easy," said Gilbert Chlewicki, P.E., the original designer of the DDI. "Think of it this way: On a conventional road in the U.S. where drivers are on the right side of the road, right turns are easy and left turns are hard (requiring a dedicated signal phase so cars can cross the opposing traffic lanes). The DDI moves traffic to the left side of the road when left turns are needed."
DDIs have two traffic signals, one on each side of the interstate. Drivers turn right onto the highway entrance ramp before encountering the first traffic signal, while those turning left to enter the freeway do so after traffic has shifted to the left side, prior to the second traffic signal. Both signals have just two phases, allowing traffic to switch sides while motorists going the other direction are stopped.
"There is no need for an exclusive left-turn phase from the major road, which is usually needed in a conventional diamond interchange," Chlewicki said.
Without traffic signal phases solely for left turns, cycle lengths for red lights are typically much shorter in a DDI.
The reduced number of signal phases also enhances safety for motorists exiting the highway. Because traffic flow through a DDI is more efficient, traffic queues on exit ramps are much less likely to extend back to the highway than at a busy standard diamond interchange, eliminating a potential safety hazard.
For more information on the DDIs coming to I-4, visit I4Beyond.com/DDI.
Get Ready for Safe Summer Travel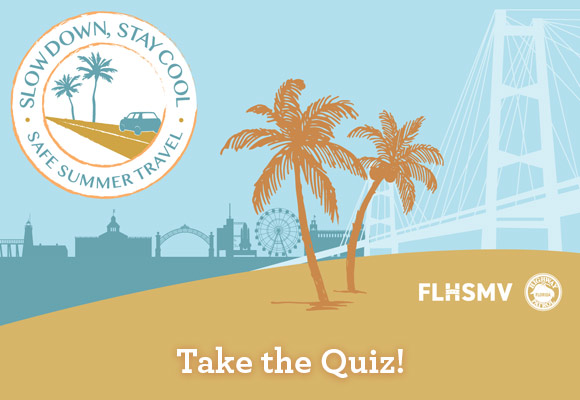 Take a quiz and test your knowledge on safe summer travel.
Summer's here! With the weather heating up people are eager to get out of their homes, into their cars, and onto the road. Florida's theme parks and beaches make it a prime destination for many of those travelers, so it's more important than ever to drive safely and cautiously with all that extra traffic. Here are some travel tips to help you arrive alive.
Be Prepared
Luggage? Music? Snacks? Check, check, check. You've got all the essentials covered for your road trip, right? Not yet.
You should always travel with an emergency roadside kit in your vehicle. Here are some items the National Highway Traffic Safety Association suggests you include in your kit.
Cell phone and charger
First-aid kit
Flashlight
Flares and a white flag
Jumper cables
Tire pressure gauge
Jack and ground mat for changing a tire
Work gloves and a change of clothes
Basic repair tools and some duct tape (for temporarily repairing a hose leak)
Water and paper towels for cleaning up
Nonperishable food, drinking water, and medicines
Extra windshield washer fluid
Maps
Blankets and towels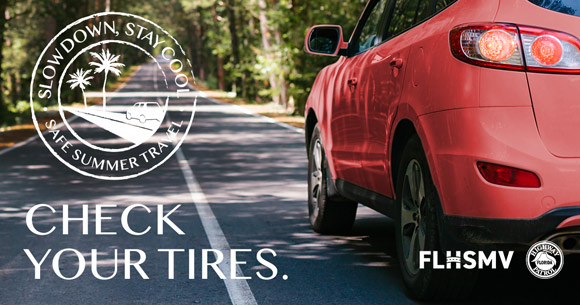 Inspecting your vehicle before setting out can prevent unexpected mechanical issues while on the road. Have a mechanic check your battery and belts. Test your brake lights, headlights, turn signals, interior lights, and emergency flashers. Make sure your vehicle's fluids are topped off, including coolant, oil, windshield washer fluid, transmission fluid, and power steering fluid. Replace any tires that have uneven wear or insufficient tread and ensure they're properly inflated.
Also make sure you haven't received any recall notices regarding your vehicle. Vehicle manufacturers are required to fix the problem outlined in a recall by repairing it, replacing it, or in rare cases, repurchasing the vehicle.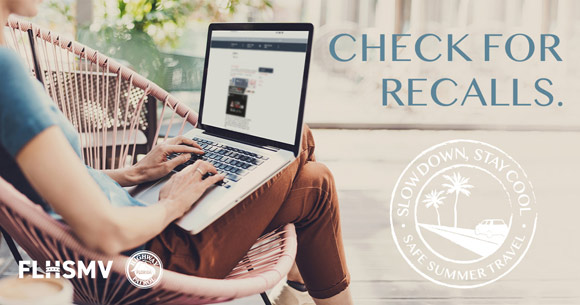 If you're traveling with a child, ensure their child seat or booster seat is properly installed and is the right size for the child's height and weight. Visit your nearest police station or fire station if you need assistance.
Have a Plan
Having a travel plan in place before you get behind the wheel will go a long way towards helping you reach your destination safely. Pull up the weather forecast for your expected travel days. Familiarize yourself with necessary directions and maps. Check on anticipated traffic and road conditions along your route.
Driving while tired can be just as dangerous as drinking and driving. Make sure you're getting plenty of rest and check medication labels to see if drowsiness is a side effect of use. Plan frequent breaks, and if you need to take a nap, only sleep at lighted, designated rest stops.
For the safety of your children and pets, never leave them in a vehicle unattended, even for a short time. The inside of a vehicle can heat up by 20 degrees in just 10 minutes. Keep in mind that a child's body temperature can rise three to five times faster than an adult's, and heatstroke in a closed vehicle can occur when the temperature outside is as low as 57 degrees.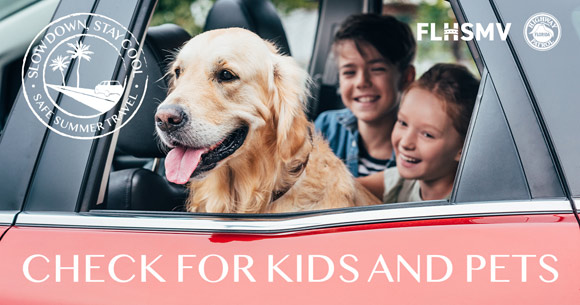 Beyond the Ultimate Spotlight:
Binh Nguyen, Senior Corridor Manager
Binh Nguyen, the Senior Corridor Manager for Interstate 4 (I-4) in Central Florida, helps manage traffic flow on the major roads that feed I-4 and receive its exiting vehicles.
Using traffic cameras, vehicle detectors, and other data-collecting devices, Nguyen (pronounced wen) and his team can monitor traffic and keep things moving smoothly on busy state roads. Known as arterials, the roads include State Roads (S.R.) 50, 408, 414, 434, 436, and 482.
"As a driver myself, I know traffic can be frustrating," said Nguyen, who has a civil engineering degree and has worked in transportation for 21 years. "These tools help us see the problem, sometimes even anticipate the problem, and then do something about it. We can help the traffic flow."
Solutions often entail redirecting heavy traffic to preapproved diversion routes to keep vehicles moving as safely and smoothly as possible. Nguyen's team at the Regional Transportation Management Center (RTMC) in Sanford uses real-time data to find the best routes for diverting traffic.
As his team members deal with arterial roads, they also consult with other Florida Department of Transportation (FDOT) teams at the Center. In addition, through agreements with city and county transportation departments, they can temporarily adjust traffic light timing to accommodate extra vehicles.
Nguyen, who works for Iteris, says he enjoys the ongoing challenge of improving transportation. He notes that while computer analysis can find the routes with the highest probability of keeping traffic moving safely and smoothly, no formula can predict what each individual driver may do.
Even with electronic message signs and law enforcement officers guiding traffic, some drivers may try to skip the designated diversion routes and find their own paths. "Traffic, like water, will seep out wherever it can go," he said.
Born in Vietnam, Nguyen came to the U.S. with his family when he was 13. He grew up in Washington state, earned a bachelor's degree in civil engineering, and put his degree to work in transportation, designing roadways, planning drainage systems, and then turning to traffic analysis.
Nguyen, his wife and their three daughters came to Orlando in 2017. In his off times, he enjoys music and photography and attends church activities with his family.