I-4 Advance Construction Notifications to Include ChampionsGate Information
Motorists can now sign up to receive advance construction alerts for work anticipated to begin this summer at the Interstate 4 (I-4) and County Road (C.R.) 532 interchange near ChampionsGate in Osceola County.
The upcoming construction project will transform the I-4 at C.R. 532 interchange into a Diverging Diamond Interchange (DDI). The Florida Department of Transportation interchange project will improve ramps and add bike lanes and sidewalks along C.R. 532.
The I-4 Advance Construction Alert System offers advance notification about nightly lane, ramp, and full roadway closures sent directly to your inbox or cell phone. Sign up at I4Beyond.com/alerts.
When signing up for advance construction alerts, use the "Alert Locations" dropdown menu to select either "Between two Interchanges" or "Around an Interchange." If you select "Between two Interchanges," select the interchanges where you enter and exit I-4 regularly on your daily commute. Under "Around an Interchange," choose "I-4/ChampionsGate Boulevard (CR-532)" if you are only interested in C.R. 532 alerts. You will only receive alerts for the area(s) you have selected, ensuring that the alerts are relevant to your commute.
If you have previously signed up for alerts on the I-4 Ultimate project, you will need to return to I4Beyond.com/Alerts, enter your email address and zip code, and change your preferences to include the "I-4/ChampionsGate Boulevard (CR-532)" selection in the dropdown menu.
A second construction project in the ChampionsGate area is anticipated to begin in fall 2021. Crews will begin the construction of new eastbound and westbound I-4 auxiliary lanes, one in each direction, between the ramps of State Road (S.R.) 429 and C.R. 532, as well as an auxiliary lane on northbound S.R. 429 between I-4 and Sinclair Road. The westbound I-4 exit ramp and the eastbound I-4 entrance ramp at the C.R. 532 interchange will also be widened to two lanes to increase traffic flow and capacity. Additionally, this project will mill and resurface eastbound and westbound I-4 from the Polk-Osceola County line to west of S.R. 417, and S.R. 429 between I-4 and Sinclair Road.
Prior to receiving text messages, users are required to opt in by replying "YES" to the introductory message. Standard messaging and data rates may apply. Messaging frequency varies based on preferences.
How Diverging Diamonds Differ from Standard Interchanges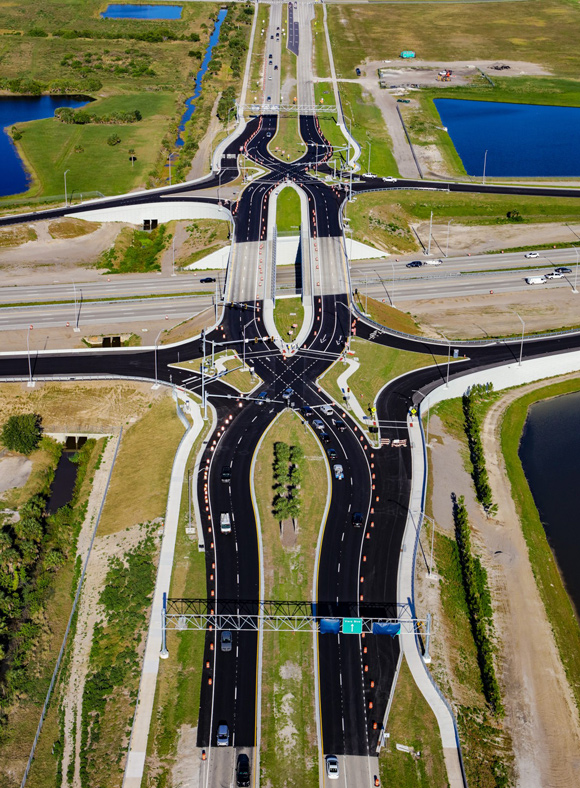 The first Diverging Diamond Interchange (DDI) in Central Florida opened in July 2019 at Interstate 95 and Viera Boulevard. Three more DDIs are planned for the I-4 corridor at County Road 532, Daryl Carter Parkway and Sand Lake Road (State Road 482).
Multiple Diverging Diamond Interchanges (DDI) are coming to Interstate 4 (I-4) as part of I-4 Beyond the Ultimate. These innovative interchanges allow about twice the traffic flow in the same amount of time. DDIs also reduce the number of traffic signal phases and allow motorists to enter the freeway without crossing oncoming traffic.
With two-phase traffic signals on each side of the DDI, there is no specific signal for left turns onto the freeway. The traffic signals indicate when to proceed into and out of the DDI. The design of the interchange removes more than half of the interchange's conflict points — places where cars either turn in front of oncoming traffic or merge with other vehicles.
From a motorist's perspective, what are the main differences between driving through a DDI and a standard interchange? After all, drivers are accustomed to being on the right side of the road, and one of the unique characteristics of a DDI is that it moves traffic temporarily to the left side.
"The DDI is very intuitive for drivers," said Gilbert Chlewicki, P.E., the original designer of the DDI. "For many drivers, they won't notice that they are temporarily driving on the left side of the road because it feels like driving on a one-way street. They might notice the second or third time around when they may realize that this interchange seems slightly different."
Drivers moving through DDIs simply need to do what they always do — follow the signs, pavement markings, and traffic signals as they normally would.
"The geometry of the DDI will guide everyone to the proper location," Chlewicki said.
Most aspects of the driver's view will look the same. For example, bike lanes, when present, are still on the driver's right. Pedestrians will also be on the right if the DDI has a sidewalk in the median, which is the most common design in DDIs.
With DDI construction starting this summer at County Road 532 and two more on the way — Daryl Carter Parkway in 2022 and Sand Lake Road (State Road 482) in 2023 — drivers will need to be aware of the changes that are coming. However, despite the movement to the left side of the road, the intuitive nature of DDIs makes navigating through them simple.
For more information on DDIs, visit I4Beyond.com/DDI.
National Work Zone Awareness Week Urges Motorists to Drive Safely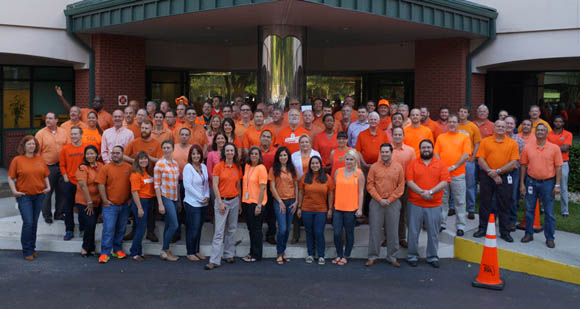 I-4 Ultimate team members in 2016 recognize National Work Zone Awareness Week.
The week of April 26 is National Work Zone Awareness Week, an initiative encouraging roadway work zone safety for everyone.
During National Work Zone Awareness Week, the Florida Department of Transportation (FDOT) is reminding everyone of the importance of paying attention as they approach and drive through work zones so that both motorists and roadway workers remain safe. Drivers are urged to take note of reduced speed limits, eliminate distractions, and be watchful for roadway workers and their equipment. This year's National Work Zone Awareness Week theme is "Drive Safe. Work Safe. Save Lives."
In 2019, the most recent year for which statistics were available, there were 762 fatal crashes in work zones, resulting in 842 deaths, according to the National Work Zone Safety Information Clearinghouse. In addition, 135 roadway workers were killed in work zones in 2019. The vast majority of people killed were motorists, passengers, and pedestrians.
Remember the following tips when driving through work zones, not just during National Work Zone Awareness Week, but every day. Maintaining a safe speed can improve driving conditions for everyone.
Adjust your Speed — Traveling 10 mph above the posted work zone speed limit only shaves less than three minutes off a 20-mile trip and carries a minimum fine of $200, plus court fees.
Don't Tailgate — More than half of all work zone crashes are rear-end collisions. Passenger vehicles traveling at 50 mph require 300 feet of stopping distance on dry roads. A loaded tractor-trailer needs 450 feet to come to a complete stop.
Pay Attention — Traveling at the posted speed limit allows motorists more time to recognize and respond to the changes in the roadway. Work zone environments are constantly changing. Travel lanes may be different from the last time you drove through the area. Added distractions like texting and talking on the phone, eating and drinking, or adjusting the radio and navigation system divert your attention from the primary task of driving.
When you see orange barrels, maintain a safe speed, pay attention, and put your phone away. Keep the men and women who maintain and build our roads safe, as well as you and your passengers.
Quiz: National Work Zone Awareness Week
National Work Zone Awareness Week (NWZAW) is an annual spring campaign held at the start of construction season to encourage safe driving through highway work zones.
This year's theme, "Drive Safe. Work Safe. Save Lives," encourages motorists to use extra caution in work zones to protect themselves, other drivers, and road workers.