Reducing Wrong-Way Driving Incidents on I-4
Wrong-way driving crashes occur when a driver has not observed posted traffic signs and proceeds in a lane going the wrong direction, increasing the risk of a head-on collision. To reduce wrong-way driving incidents, the Florida Department of Transportation (FDOT) is implementing Wrong Way Vehicle Detection Systems (WWVDS) that will alert drivers of entering the interstate in the wrong direction.
In September 2020, FDOT began constructing new wrong-way signage, roadway reflectors and pavement markings on select Interstate 4 (I-4) ramps in Central Florida. Each sign is equipped with various technologies to detect vehicles traveling the wrong way. Once triggered, lights on the signs begin to flash to notify the driver they are traveling in the wrong direction. If the motorist continues in the wrong way, radar detection sends alerts to FDOT's District Five Regional Transportation Management Center (RTMC) and law enforcement. The RTMC systems also broadcast a wrong-way driver alert on electronic messaging boards along the interstate system to warn other motorists.
The first installation of WWVDS and other driving deterrents began this month at the I-4 interchanges. When completed, motorists can expect to see detection signs at eastbound and westbound exit ramps along I-4 in Orange, Seminole and Volusia counties.
This first batch of detection systems will be at the following I-4 interchanges:
Central Florida Parkway (EB exit only)
Sand Lake Road (S.R. 482)
Lake Mary Boulevard
County Road 46A
S.R. 46
Orange Boulevard/U.S. 17-92
Dirksen Drive
Saxon Boulevard
Installation of a second set of WWVDS will occur in Spring 2021 at the I-4 off ramps at S.R. 472, Orange Camp Road/C.R. 4116, and S.R. 44.
To find out about construction in your area, sign up for advance construction alerts at I4Beyond.com/Alerts. For more information on the WWVDS, visit I4Beyond.com/wrongway.
I-4 Design Projects Introduced at ChampionsGate Virtual Public Hearing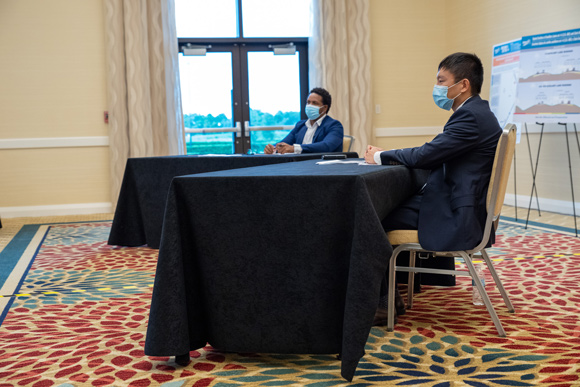 Su Hao, P.E., FDOT Project Manager, and Conroy Jacobs, AICP, Osceola County Project Manager, conduct the virtual public hearing for improvements to Interstate 4 (I-4) and County Road (C.R.) 532 near ChampionsGate.
The Florida Department of Transportation (FDOT) and Osceola County held a public hearing regarding design plans for improvements to Interstate 4 (I-4) and County Road (C.R.) 532 near ChampionsGate in Osceola County on September 16.
The purpose of these projects is to provide operational and safety improvements to the I-4 and C.R. 532 interchange, as well as on I-4 between C.R. 532 and State Road (S.R.) 429. The public hearing was held to present information and obtain public input regarding the proposed designs.
The Department offered two ways for the community to participate in the hearing. Attendees had the option of attending the Virtual Public Hearing (VPH) from a computer, tablet or phone. Alternatively, they could participate in person by going to the Omni Orlando Resort at ChampionsGate in the Osceola County Conference Center. All participants, regardless of the platform they chose, participated in the same live hearing.
The design projects that were discussed included:
I-4 and C.R. 532 Interchange Reconfiguration: Design plans reconfigure the I-4 and C.R. 532 interchange to a diverging diamond interchange (DDI). This is a joint project between Osceola County and FDOT. The county is designing the project, and FDOT will oversee its construction. A DDI removes turns across oncoming traffic, improving safety and traffic operation. The project will also add bike lanes and sidewalks along C.R. 532 for improved bicycle and pedestrian safety and connectivity. Construction is anticipated to begin in the spring of 2021.
I-4 Auxiliary Lane Additions: The project includes the addition of new eastbound and westbound I-4 auxiliary lanes, one in each direction, between the ramps of S.R. 429 and C.R. 532, as well as an auxiliary lane on northbound S.R. 429 between I-4 and Sinclair Road. This is an FDOT project. The project includes milling and resurfacing S.R. 429 between I-4 and Sinclair Road. Construction is anticipated to begin in the fall of 2021.
I-4 Milling and Resurfacing: This project will mill and resurface eastbound and westbound I-4 from the Polk-Osceola County line to west of S.R. 417. This is an FDOT project. Construction is anticipated to begin in the fall of 2021.
To view the presentation and materials included in the public hearing regarding the I-4 projects at ChampionsGate, visit I4Beyond.com/ChampionsGate.
FDOT Recognizes National Roundabouts Week
For National Roundabouts Week, which began September 21, the Florida Department of Transportation (FDOT) produced three new educational videos to help answer some commonly asked questions about the circular intersections.
"We developed these videos because we want residents to be as excited about roundabouts as we are," said Jessica Ottaviano, FDOT District Five Public Information Director. "Roundabouts provide a multitude of benefits, including significantly reducing the chance of severe crashes, reducing travel times, and accommodating up to 50% more traffic than typical intersections."
The three new educational videos provide information about these frequently asked questions about roundabouts:
Currently, there are about 20 roundabouts on Florida's state road system and more than 300 on local roads statewide.
What is a roundabout? Roundabouts are circular intersections that move counterclockwise around a center island and have no traffic signal. Instead, traffic is determined by entry yield control. Vehicles that flow around the intersection have the right of way, while entering traffic yields to pedestrians and traffic already in the intersection.
Since roundabouts only move in one direction, they virtually eliminate head-on and high-speed, right-angle collisions. While conventional intersections have 32 conflict points, roundabouts cut that number by 75% to just 8. The Federal Highway Administration states that roundabouts reduce the number of fatalities by up to 90% and result in an overall 76% reduction in injury crashes.
Learn more about roundabouts at I4Beyond.com/roundabouts.
Traffic on E.E. Williamson Road Bridge Shifts to New Section
Motorists, pedestrians and bicyclists should be advised that a new traffic pattern on E.E. Williamson Road over Interstate 4 (I-4) was implemented this month.
Vehicular, bicycle and pedestrian traffic recently shifted from the older portion of the bridge to a newly constructed portion.
Due to this shift, pedestrians who cross over I-4 using the E.E. Williamson bridge should plan to use the crosswalk prior to the bridge to safely cross the roadway. Crossing the road sooner at the crosswalk is necessary as the sidewalk leading up to the bridge and over I-4 will now be on the south side of the road.
The reconstruction of the E.E. Williamson Road overpass is anticipated to be complete in 2021.
Please continue to use caution while driving through the active construction zone. Remember to always be alert, whether walking, riding or driving. Safety doesn't happen by accident. Construction schedules are subject to change due to weather or other circumstances.
For more project information, visit fdot.tips/Seminole.
Construction Spotlight: Brad Bauknecht, P.E.
Senior Project Engineer in Construction, Engineering, and Inspection
Brad Bauknecht had two main interests while attending Embry-Riddle Aeronautical University in Daytona Beach — engineering and baseball.
Before he became lead engineer on the current project to resurface 7 miles of westbound Interstate 4 (I-4) from US 17-92 to Lake Mary Boulevard, he had been a student who loved the precision and certainty of math and science and an athlete who learned to cope with just the opposite — the fickle nature of college baseball.
While the student engineer might not have calculated all the aerodynamics of the flight of a baseball, his pitching was strong enough to earn him a winning record. And his engineering expertise later secured him the chance to manage a project for the Florida Department of Transportation (FDOT) that widened I-95 where it passed near his old college campus.
"Working on a project so close to where I received my B.S. in civil engineering was memorable," Bauknecht said. "Changing from student to teacher, I was able to bring upcoming engineers on the project site and show them what they are working so hard to become. Thanks to FDOT, that was such a gratifying reward and achievement!"
He especially wanted students to experience the thrill that still energizes his career today. "Taking an abstract plan from lines on paper to the concrete and steel of roads and buildings in real life — that's amazing. That's something that you never get tired of."
After graduation, Bauknecht began a career that soon led to a chance to work with FDOT, where he learned much about maintaining safety while producing high-quality results.
Today, he is vice president for construction management at Newkirk Engineering and is currently leading teams that monitor the safety of construction processes, quality of materials used, and whether the outcomes match approved plans and building codes. For the I-4 Beyond project, his quality-control teams look at everything from the structural base of a roadway to the top layer that vehicles drive on, as well as the quality of the striping and guardrails, and the safety of workers and motorists during construction.
"Safety is a big issue for us," Bauknecht said. "Our goal is to get our part of the Beyond the Ultimate project done safely, on time, and on budget. It's exciting to be part of history and of something that will help the region thrive long into the future."
For fun, Bauknecht likes spending time with his kids and his girlfriend and her children while they enjoy boating and fishing as a blended family.