E.E. Williamson Bridge To Stay Open During Reconstruction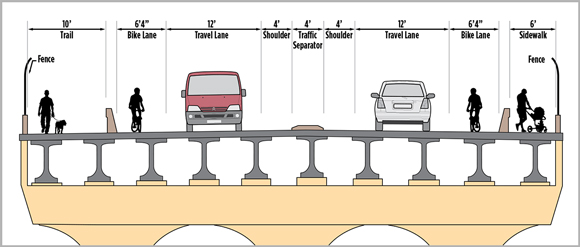 The E.E. Williamson Road bridge will be built in phases allowing two lanes of vehicular traffic and maintaining safe pedestrian access.
The E.E. Williamson Road bridge over Interstate 4 (I-4) will remain open to trucks, cars, bicyclists, and pedestrians during its complete reconstruction, which will create a brand-new structure more than 25 feet wider than the existing bridge.
Work is scheduled to start in September 2019. The project is anticipated to be complete in January 2021. (Schedule subject to change, as construction progress, roadway conditions, and weather may require schedule adjustments.)
The new bridge is designed with support piers at different intervals to accommodate a new auxiliary lane on I-4 and up to 12 lanes of interstate for future expansions to improve safety and mobility. The new bridge also will have wider lanes for vehicles and separate lanes for bikes and separate sidewalks for pedestrians.
To minimize disruption, the Florida Department of Transportation (FDOT) has created a construction plan that allows workers to alternate between building portions of the new bridge while tearing down parts of the existing structure as they become unneeded. To create a safe workspace, the existing lanes will be slightly narrowed when they are shifted away from the portions under construction. In the end, a completely new, wider, pedestrian-friendly bridge will emerge.
Plans call for the two-lane bridge to keep both lanes and a sidewalk open during the day – starting before the morning rush hour and extending into the early evening. To keep work progressing, plans allow for overnight single lane closures from 8 p.m. to 6:30 a.m. At all times during construction, driveway and property access will be maintained.
To ensure safety, the bridge will have maintenance of traffic (MOT) workers to control the flow of vehicles across the bridge at night. Those MOT plans as well as many other structural and material matters are reviewed and monitored for FDOT by WSP USA, a private engineering-services company. The construction contractor is Hubbard Construction Company.
In very general terms, the construction will follow this schedule:
September 2019 – Work begins with a focus on building new lanes adjacent to the south side of the current bridge.
April 2020 – With a newly built lane in place, work continues to prepare the median area as a temporary traffic lane, so workers can remove portions of the existing bridge that are no longer needed.
June 2020 – After removing the northern half of the current bridge, work will focus on building its upgraded replacement.
October 2020 – All vehicular, bicyclist and pedestrian lanes should be in place and open.
January 2021 – Final details completed.