FDOT Designing Additional Improvements for I-4 and S.R. 46 Interchange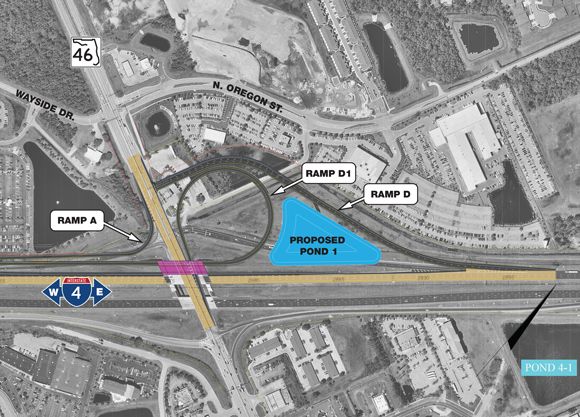 FDOT completed multiple improvements to the I-4 and S.R. 46 interchange in 2013.
Current design plans to upgrade the Interstate 4 (I-4) and State Road (S.R.) 46 interchange are comparatively minor compared to its overhaul years ago.
In 2013, the Florida Department of Transportation (FDOT) completed a $25.9 million project to boost safety and efficiency at the interchange. When the improvements were finished, motorists noticed a big difference in ease of travel.
The centerpiece of the project was a new loop entrance ramp from westbound S.R. 46 to westbound I-4. Instead of bringing motorists immediately onto I-4, the ramp first directs traffic onto a 3.5-mile, parallel roadway. This secondary road, called a collector-distributor, enhances safety by becoming the place where vehicles can change lanes for exit and entrance ramps at slower speeds, thus relocating the weaving movements from the more crowded travel lanes of the main interstate. It also enables westbound drivers to access S.R. 417 and County Road 46A without merging onto the I-4 mainline.
The project brought other enhancements, too. For example, reconfiguration of the westbound off and on ramps improved the safety and operation of S.R. 46 by separating the on-ramp traffic prior to the intersection with the off-ramp and S.R. 46.
Drivers have reaped the benefits of those changes for six years, and FDOT remains committed to keeping traffic moving safely through the area. This time, however, improvements currently in design are relatively minor. The interchange will gain two new left turn lanes: one on the eastbound I-4 off-ramp for traffic bound for westbound S.R. 46, and another on eastbound S.R. 46 for traffic entering the eastbound I-4 on-ramp. Plans also include a wider I-4 bridge over S.R. 46 to accommodate express lanes.
S.R. 46 is one of five interchanges in I-4 Beyond the Ultimate Segment 3, an 8.9-mile corridor that extends from 1 mile east of S.R. 434 to east of U.S. 17-92. The I-4 Beyond the Ultimate designs are improving safety and mobility through a combined 40 miles of I-4 in Volusia, Seminole, Orange, Osceola, and Polk counties. For efficiency, FDOT has organized I-4 Beyond the Ultimate into six design segments. For more information about ongoing design plans for Segment 3 in Seminole County, visit: i4Beyond.com/segment3.