Smart Work Zone Helps Keep Motorists and Workers Safe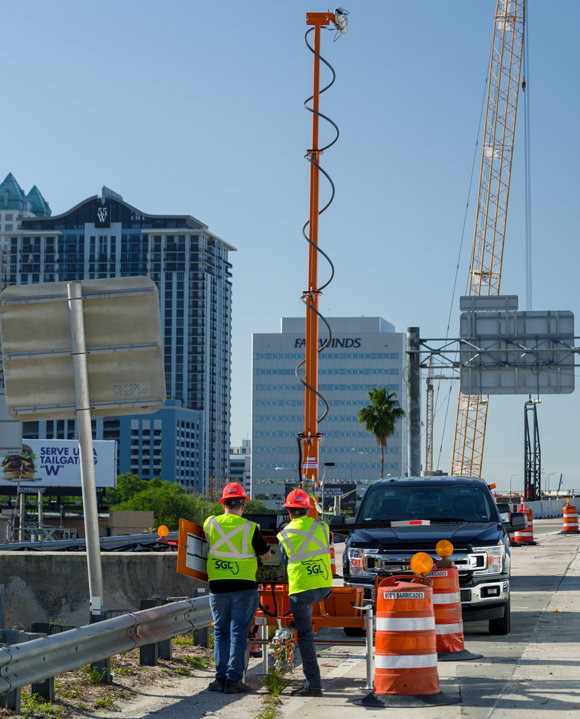 As the I-4 Beyond the Ultimate interim projects move closer to construction activity and the first traffic shifts in 2019, it's worth noting some of the innovative systems already in place to help manage traffic on Interstate 4 in Central Florida.
In fact, the I-4 Ultimate Maintenance of Traffic team recently rolled out a solar-powered, mobile system that can sense traffic changes and automatically warn drivers of road conditions ahead.
In simple terms, the smart work zone system can detect traffic slowdowns and congestion on Interstate 4 (I-4). When it does, the system automatically sends a wireless signal back to an electronic sign, which then generates a preloaded message such as: "Caution work zone ahead." Or "Caution slowed traffic ahead."
The wireless signal can work over the distance of a couple of miles, depending on terrain; however, a half-mile is the optimal distance. The advance warning can prevent collisions with other vehicles and help protect those in construction zones nearby.
The smart work zone system, which can be easily moved to various spots along the 21-mile reconstruction project, is just one of the many ongoing safety initiatives of SGL – the joint construction venture of Skanska, Granite and Lane
SGL had tested a similar automated system in 2016 and recently purchased a full system to help keep motorists safe and traffic moving. The system consists of four speed detectors, three electronic signs and two cameras.
When needed, the cameras allow approved members of the I-4 Ultimate team to monitor a situation remotely. The cameras do not record or store any images.
By using solar batteries and electronic signs with preloaded messages, the team also minimizes the number of times that workers need to go to a site beside the interstate to add a message or replace a power source. That, in turn, contributes to the overall safety and efficiency of the team.