Three FDOT District Secretaries Shine Spotlight on Future of I-4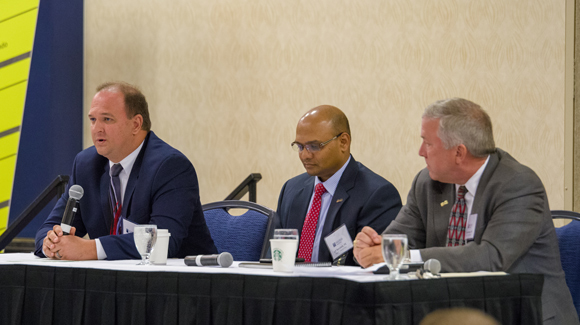 A recent transportation conference held in Orlando highlighted the ever-growing importance of the two major highway construction projects that are remaking 60 miles of Interstate 4 (I-4) in Central Florida.
The "New Leaders of the I-4 Corridor" conference drew numerous attendees from the fields of transportation, engineering, construction and communications. The event was organized by the Society for Marketing Professional Services and the Central Florida Chapter of WTS. WTS describes itself as "an international organization dedicated to building the future of transportation through the global advancement of women."
In a rare occurrence, the three District Secretaries of the Florida Department of Transportation (FDOT) whose districts include I-4, shared the speakers platform. A recurring theme of the discussion was the continued importance of the interstate in fast-growing Florida.
District 5 Secretary Mike Shannon, P.E., whose area includes Orange, Osceola, Seminole and Volusia counties along the I-4 corridor, talked about the I-4 Ultimate and I-4 Beyond the Ultimate projects. The two projects will remake 60 miles of I-4 from U.S. 27 in Polk County to State Road 472 in Volusia County. He noted that while the two projects will significantly increase safety and mobility, improvements in other areas also will be needed to continue to manage traffic.
District 1 Secretary L.K. Nandam, P.E., whose district includes Polk County on the I-4 corridor, said that District 1 is studying extending managed lanes on I-4 through Polk County so it could one day connect with managed lane projects in the Orlando and Tampa areas.
District 7 Secretary David Gwynn, P.E., whose area includes Tampa and St. Petersburg, noted that several construction projects are planned to help maintain traffic flow in the growing metropolitan area.